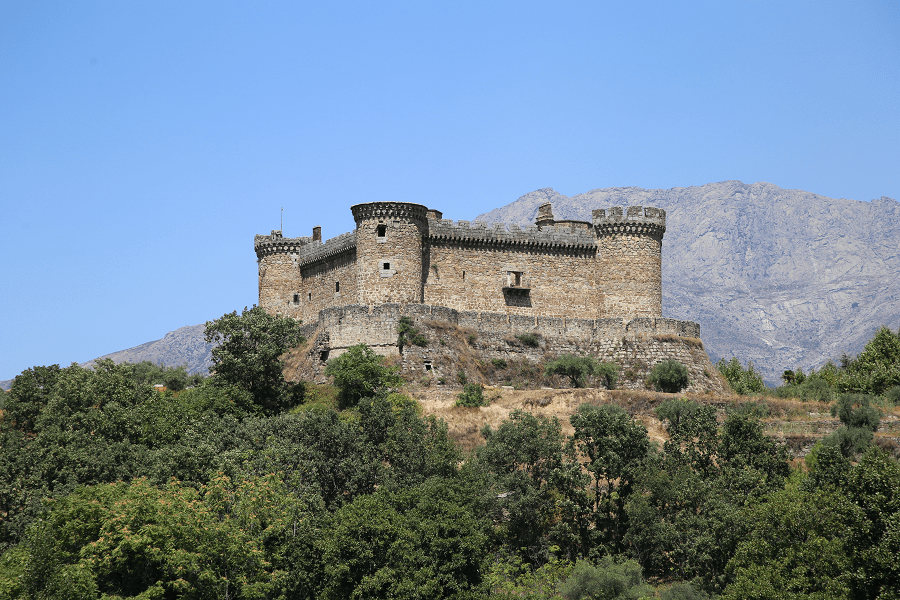 The Mombeltrán Castle or Castle of the Dukes of Alburquerque is a monument in Mombeltrán, in the province of Ávila, Castile and León, Spain. It was erected by Beltrán de la Cueva, first Duke of Albuquerque on the last terraced area of the mountain range, in a strategic position that dominates the entire ravine. It dates between 1462 and 1474, attributing it to the architect Juan Guas for its similarity to the castle of Belmonte.
The complex is made up of a low-wall barbican with a large slope that delimits the rectangular-plan body with angular towers, all topped with square merlons that, in the central core, rise on rows of arches as corbels, merely decorative, without any defensive function.
The castle has remained linked to the House of Albuquerque through the centuries until today, having been occasionally inhabited by its owners. Like all Spanish castles, it has been protected since April 22, 1949 with the figure of Asset of Cultural Interest, its current owner Juan Miguel Osorio and Bertrán de Lis.
Working hours
Friday
11AM–2PM
Saturday
11AM–2PM
Sunday
11AM–2PM
Monday
11AM–2PM
Tuesday
11AM–2PM
Wednesday
11AM–2PM
Thursday
11AM–2PM
How to get to?
From Avila 1 hr 4 min (74.8 km) via N-502
From Valladolid 2 hr 31 min (188 km) via N-601 and N-502
From Madrid 1 hr 54 min (168 km) via Autovía del Suroeste/P.º de Extremadura/A-5
Address: Parque de la Soledad, 2, 05410 Mombeltrán, Ávila, Spain
GPS coordinates: 40°15′27″N 5°01′06″W