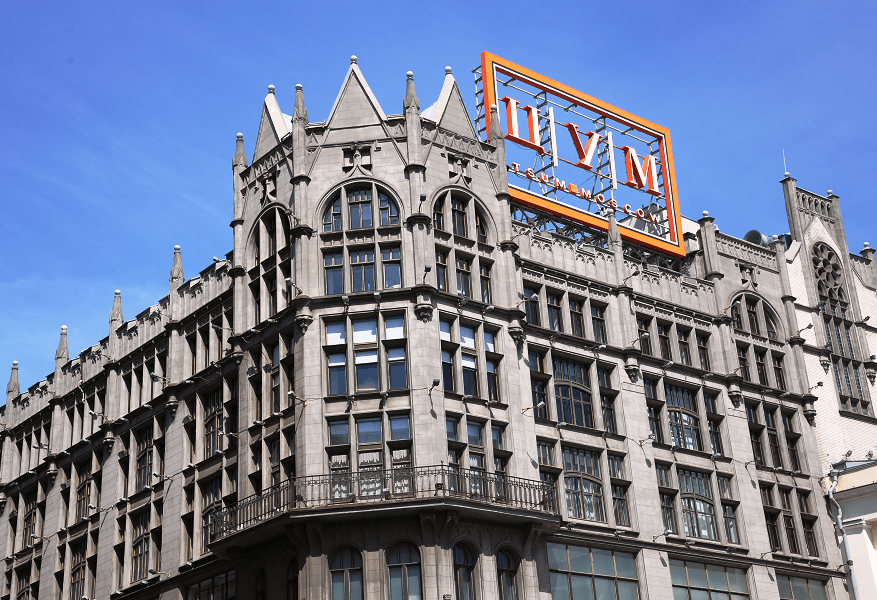 TSUM (Central Department Store) is a store in the center of Moscow, located on the corner of Petrovka and Theater Square at the address: Petrovka, house 2. Appeared here in 1885 as a trading house "Muir and Maryliz".
A seven-storey building in the Gothic style was built in 1908. It was designed by the Russian architect Roman Klein.
After the revolution, it was nationalized; it has its modern name since 1933. In 2002, it became the property of the Mercury group of companies.
With a total area of 70,000 m², it is one of the largest department stores in Europe.
The TSUM trading house positions itself as a store selling luxury goods. On the territory of the Central Department Store there are stores of such brands as Givenchy, Dolce&Gabbana, Valentino, Celine, Ralph Lauren, Alexander McQueen, Lanvin, Chloe, Balmain, Balenciaga, Bottega Veneta, Roberto Cavalli, Emilio Pucci, Michael Kors, Jimmy Choo, Marni, Brioni, Boss, Loro Piana, Chopard, Rolex, Graff, Garrard, Patek Philippe.
Exhibitions and art projects are held under the auspices of the TSUM Art Foundation, which specializes in contemporary art. In 2007, within the framework of the II Moscow Biennale of Contemporary Art, TSUM presented the American Video Art project.
In 2009, Yoko Ono's monographic exhibition "Odyssey of a cockroach" was also held here, as well as an exhibition of Chinese art "China, go!" and the installation of the actionist Oleg Kulik "Moscow. TSUM.
Nearest metro: Ohotny Ryad, Teatralnaya, Lubyanka.
Nearest attractions: Alexander Gardens, Bolshoi Theatre, Maly Theatre, Manezhnaya Square, Ploschad Revolyutsii (square), State Duma building, House of the Unions, Teatralnaya Ploschad, TSUM, Monument to Alexander Ostrovsky, Tretyakovskiy proezd, Central Children's Store, Lubyanka Building, Metropol Hotel, Moskva hotel, Kremlin, Red Square.