Mitsubishi 3000GT. Red version 4×4 biturbo with 320 HP
The Mitsubishi GTO is a front-engine, all-wheel/front-wheel drive grand touring/sports car manufactured and marketed by Mitsubishi from 1990 until 2000 over three different generations. Manufactured in a three-door hatchback coupé body style in Nagoya, Japan, the 2+2 four-seaters were marketed in the Japanese domestic market (JDM) as the GTO, and globally as Mitsubishi 3000GT.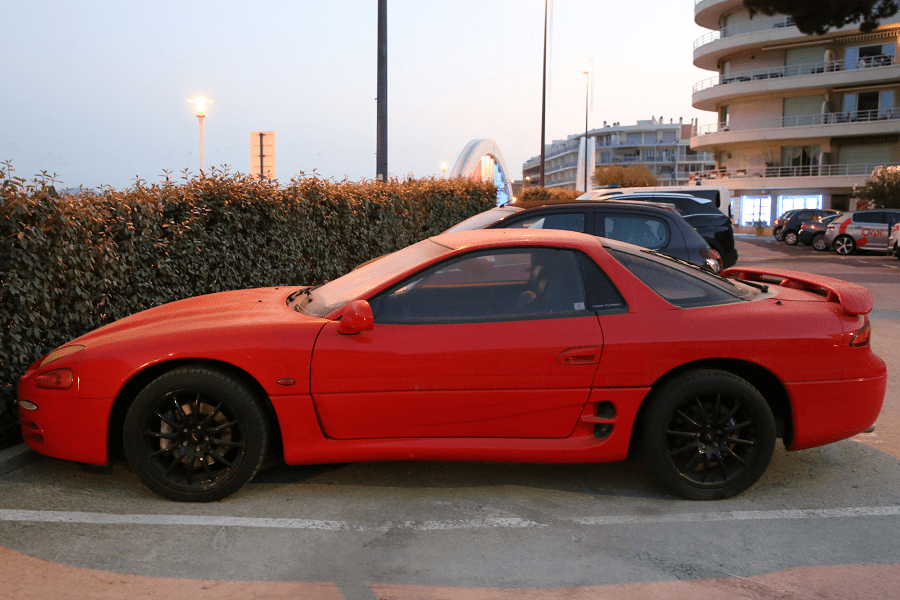 In North America, it was sold both as the Mitsubishi 3000GT (1991–1999) and the Dodge Stealth (1991–1996), a badge engineered, mechanically identical captive import. As a collaborative effort between Chrysler and Mitsubishi Motors, Chrysler was responsible for the Stealth's exterior styling.
The car was based on Mitsubishi's Sigma/Diamante and retained their transverse mounted 3-liter, 24-valve V6 engines and front-wheel-drive layout. The GTO's engines were naturally aspirated or with twin-turbochargers and were also available with active aerodynamics (automatically adjusting front and rear spoilers), four-wheel-steering, full-time all-wheel-drive and adaptive suspension.
Mitsubishi marketed a retractable hardtop variant, which were engineered and converted from coupé models in California by ASC, and sold as the GT Spyder or VR4 Spyder for model years 1993–1995. These were the first fully automated retractable hardtop marketed since the 1959 Ford Skyliner.
The JDM model took its name from the Galant GTO, a two-door hardtop coupé marketed by the company in the early 1970s, which in turn took its name from the Ferrari 250 GTO, short for Gran Turismo Omologata – "Omologata" signifying that it met motorsport homologation requirements.