2P24 Krug (Circle). GRAU classification: 2K11. NATO code: SA-4 "Ganef"
Development of the transporter erector launcher Krug ZRK-SD (2K11) air defense system started in 1957 by the Lyulev OKB design bureau. It was first displayed during a parade in Moscow in May 1965. The system started to be fielded in 1967 and became fully operational in 1969. It was used by the Soviet Army as a long-range SAM.
The launcher was designed to launch the 3M8 SAM. Artillery unit 2P24 consisted of a support beam. In the tail section of the beam, a special boom with brackets was hinged. On the brackets were guides for launching missiles. In the "on the march" position, the rockets were secured with additional supports, which were also on the boom. For reliable fixation of missiles, there was a support of a special design in front.
Due to the high height of the launcher, there were problems with passing under bridges, therefore, to reduce the height during movement, the upper stabilizer console could be dismantled.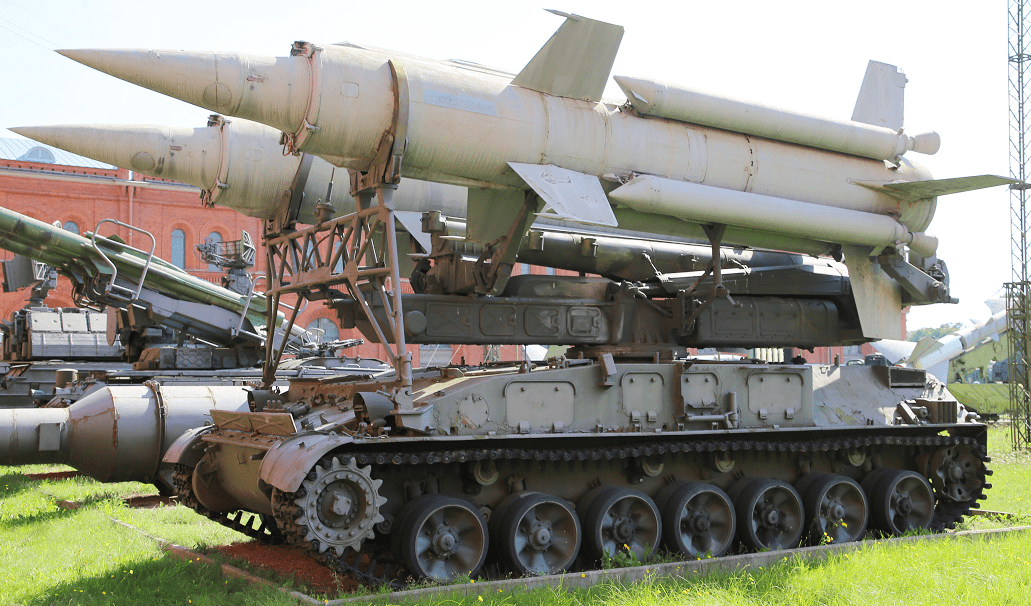 An arrow with missiles was raised using two hydraulic cylinders and provided a vertical pointing angle in the range from + 10 ° to + 60 °, while the missiles were launched, the combat crew was inside the launcher.
Development bureau: OKB-20, NII-20 and TsNII-58 (USSR)
Assembly plant: Завод №8 (Ekaterinburg, USSR)
Chief engineers: Vasiliy Grabin, Veniamin Efremov and Lev Lyuliev
Years of production: 1965—1982
In service: 1965—
Crew: 3
Armor: 13 mm
Weight: 28,750 kg
_________
Engine: V-105-V (diesel)
Engine specifications: 12 cylinders; 38 880 cc
Max speed: 63 km/h
Fuel consumption: 190 l/100 km
Range: 360 km
_________
Fire range: 50 km
Fire range altitude: 500-24500 m
Weight (one missile): 2450 kg