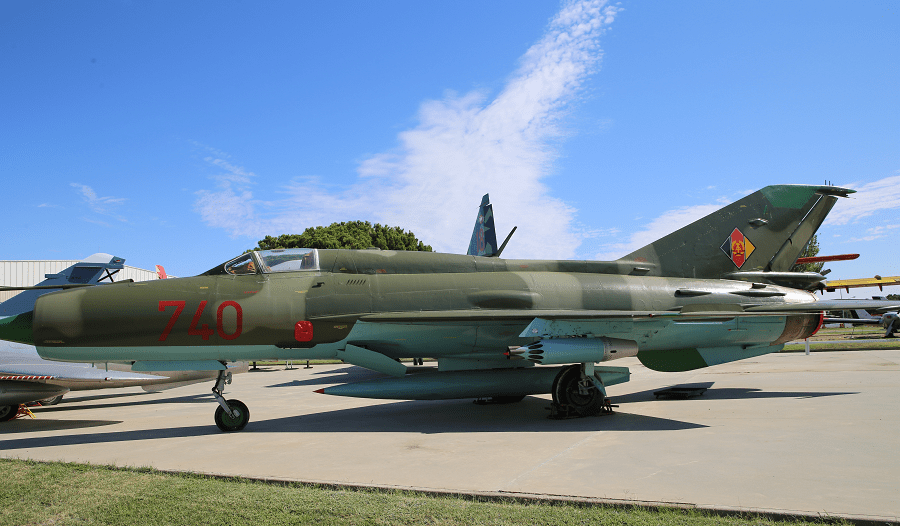 The Mikoyan-Gurevich MiG-21 (Russian: Микоян и Гуревич МиГ-21; NATO reporting name: Fishbed) is a supersonic jet fighter and interceptor aircraft, designed by the Mikoyan-Gurevich Design Bureau in the Soviet Union. Its nicknames include: "balalaika", because its planform resembles the stringed musical instrument of the same name; "Ołówek", Polish for "pencil", due to the shape of its fuselage, and "Én Bạc", meaning "silver swallow", in Vietnamese.
Approximately 60 countries in four continents have flown the MiG-21, and it still serves many nations six decades after its maiden flight. It made aviation records, became the most-produced supersonic jet aircraft in aviation history, the most-produced combat aircraft since the Korean War and previously the longest production run of a combat aircraft (now exceeded by both the McDonnell Douglas F-15 Eagle and General Dynamics F-16 Fighting Falcon).
MiG-21MF (1970; Izdeliye 96F; NATO "Fishbed-J")
M = Modernizirovannyy ("Modernised"), F = Forsirovannyy ("Uprated [engine]"). Export version of the MiG-21SM, with RP-22 radar and R13-300 turbojet. The choice of weapons loads was increased with the addition of the R-60 (NATO: AA-8 "Aphid") and later the R-60M IR-seeking AAM. These were also licence-built in India by HAL as the Type 88.