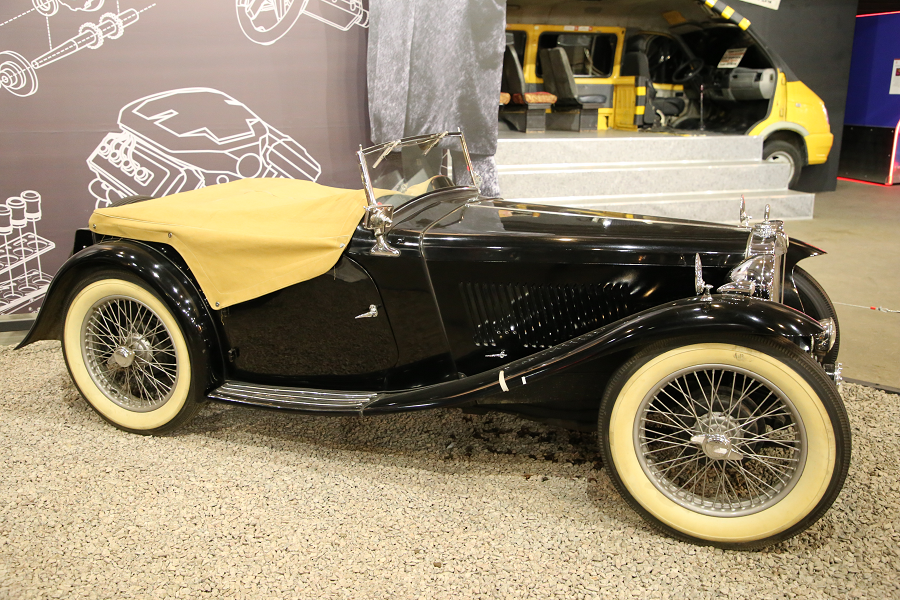 MG Model TA from 1936. 4 cylinders, 50 HP, 155 km/h in Moscow
The MG T-Type is a series of body-on-frame open two-seater sports cars that were produced by MG from 1936 to 1955. The series included the MG TA, MG TB, MG TC, MG TD, and MG TF Midget models. The last of these models, the TF, was replaced by the MGA. Although the design was similar to contemporary cars of the 1930s, it came to be considered outdated by the 1950s.
The TF name was reinstated in 2002 on the mid-engined MG TF sports car.
The TA Midget replaced the PB in 1936. It was an evolution of the previous car and was 3 inches (76 mm) wider in its track at 45 inches (1,100 mm) and 7 inches (180 mm) longer in its wheelbase at 94 inches (2,400 mm).
The previous advanced overhead-cam inline-four engine was by then not in use by any other production car so it was replaced by the MPJG OHV unit from the Wolseley Ten, but with twin SU carburettors, modified camshaft and manifolding.
The engine displaced just 1292 cc, with a stroke of 102 mm (4.0 in) and a bore of 63.5 mm (2.5 in) and power output was 50 hp (40.3 kW) at 4,500 rpm. The four-speed manual gearbox now had synchromesh on the two top ratios and was connected to the engine by a cork-faced clutch running in oil. Unlike the PB, hydraulic brakes were fitted with 9-inch (230 mm) drums.