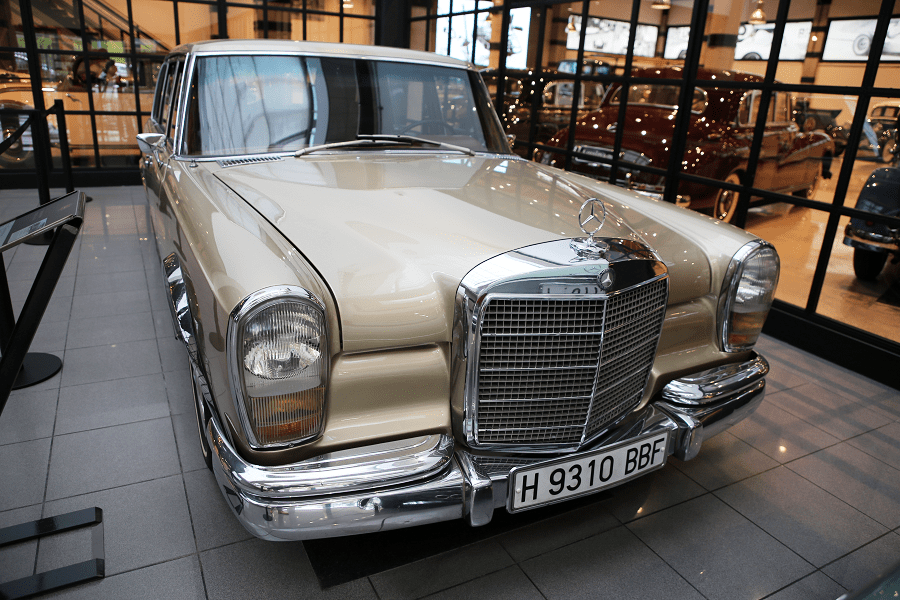 Mercedes-Benz W100 Type 600 Pullman. Production: 1963-1981, pullman, engine: V8, 6330 cc, 250 HP
The Mercedes-Benz 600 (W100) is a line of ultra-luxury cars produced by Daimler-Benz from 1963 to 1981. The forerunner of the modern Maybach marque, the Grosser Mercedes ("Grand Mercedes") succeeded the Type 300d "Adenauer" as the company's flagship model.
It was positioned above the 300-series Mercedes-Benz W112 in price, amenities, and status. Its few competitors included British and American equivalents such as Rolls-Royce, Bentley, Lincoln Continental, Cadillac Series 75, and Imperial. It was well known for its ownership among celebrities and political leaders throughout the late 20th century.
Generally, the short-wheelbase (SWB) models were designed to be owner-driven, whereas the long-wheelbase (LWB) and limousine models, often incorporating a central divider with power window, were intended for chauffeur operation.
The 600's great size, weight, and numerous hydraulically driven amenities required more power than Mercedes' largest engine at that time, the 3-litre 6-cylinder M189, could produce. A new V8 with more than twice the capacity was developed, the 6.3 L M100. It featured single overhead camshafts (SOHC) and a Bosch-made intermittently injecting multipoint manifold injection. It developed 250 PS (184 kW; 247 hp).
The 600's complex 150-bar (2,176 psi) hydraulic pressure system powered the automobile's windows, seats, sun-roof, boot lid, and automatically closing doors. Adjustable air suspension delivered excellent ride quality and sure handling over any road surface.[10]
In 1968 the M-100 engine and pneumatic suspension were fitted to the much smaller but still substantial W109 300SEL 6.3, creating the world's fastest four-door saloon. In 1975 a larger 6.9 litre version of M-100 was installed in the W116 Mercedes-Benz 450SEL 6.9 and air suspension was replaced with a hydraulic suspension.