Mercedes-Benz Citaro. Public transport of Terrassa (Catalonia, Spain)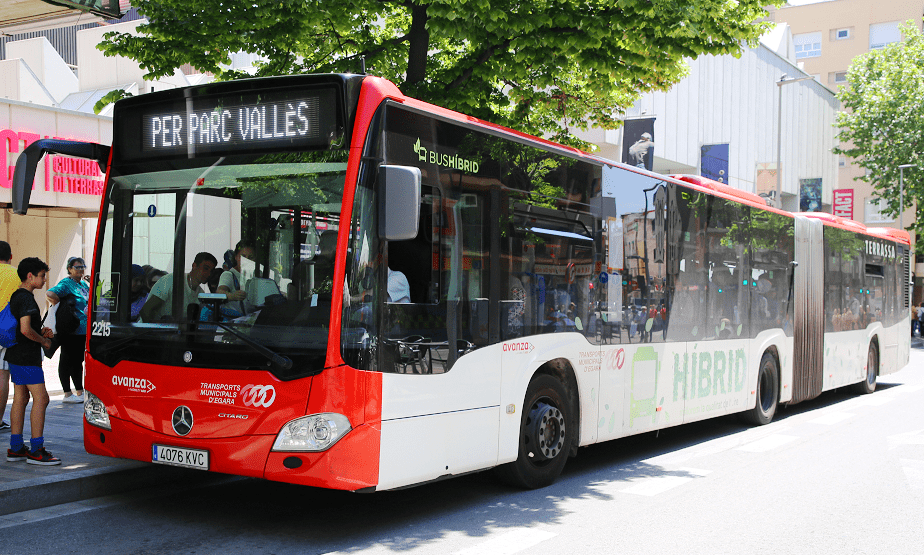 The Mercedes-Benz Citaro is a single-decker, rigid or articulated bus manufactured by Mercedes-Benz/EvoBus. Introduced in 1997, the Citaro is available in a range of configurations, and is in widespread use throughout Europe and parts of Asia, with more than 55,000 produced by December 2019.
The first generation Citaro was launched in 1997, as a successor to the Mercedes-Benz O405.
In 2005, an updated version of the Citaro to coincide with the introduction of Euro IV- (and later Euro V- and EEV-) compliant engines. Apart from minor technical alterations, mainly to accommodate the new generation of engines, the external design received a facelift to give the buses a less angular look, with internal panelling altered accordingly. Production of the old model ceased by autumn 2006.
In 2006 the Citaro received a much more substantial facelift, which can be seen from the outside by a revised front and rear design (analogous to the recently introduced low-entry buses). The hitherto characteristic feature of the first series, the "washboard trim" on the front of the vehicle, which was also available as a front advertising area and smooth surface without Mercedes star, accounted for a somewhat rounded front baffle. The lateral sweep of the front turn signals was reversed.
In May 2011, the second generation Citaro, referred to internally as the C2, was launched. From 2012, the C2 could also be equipped with Euro 6 engines. The C2 versions of the Citaro LE models were the last to be presented, at Busworld Kortrijk in October 2013.
Country: Germany
Years of production: 1997—
Capacity: 122 passengers
Length: 10.6/18.1 m
Width: 2.55 m
Height: 3.2 m
Power: 143/449 HP
Max speed: 80 km/h
Fuel consumption: 18 l/100 km
Weight: 10,400 kg