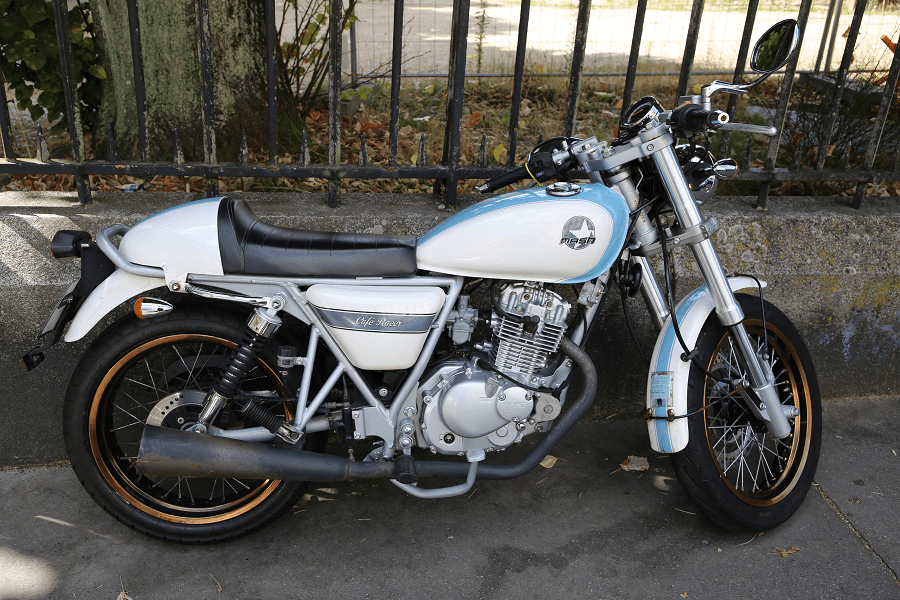 Mash Cafe Racer 125 from 2016
Mash is a French motorcycle brand that has existed since 2014, under which mainly small-volume motorcycles are sold. It is particularly common in the country of origin of the brand. In Germany there are about 60 dealers in mid-2018. Motorcycles and scooters with 50, 125, 250, 400 and 650 cm³ are offered. Several models are located in the type of café racers and retro bikes. Mash received the first major attention in Germany with the presentation of the Five Hundred, which was thoroughly tested in several motorcycle magazines. This is said to be a copy of the Honda CB 400SS that was offered in Japan from 2001 to 2007.
Mash is a brand of the company Société d'Importation de Motos et Accessoires (SIMA) SAS based in Beaune, Burgundy. SIMA is also an importer for Royal Enfield motorcycles. The two-wheelers sold under the Mash brand name are made by various manufacturers in accordance with SIMA specifications, e.g. Qingqi, made in China.
Since the Euro4 standard for motorcycles came into force in 2017, the motorcycle models have been available with petrol injection and Bosch ABS.
On March 18, 2023, Mash founder and President of SIMA, Frédéric Fourgeaud, died in an accident in his workshop at the age of 68.