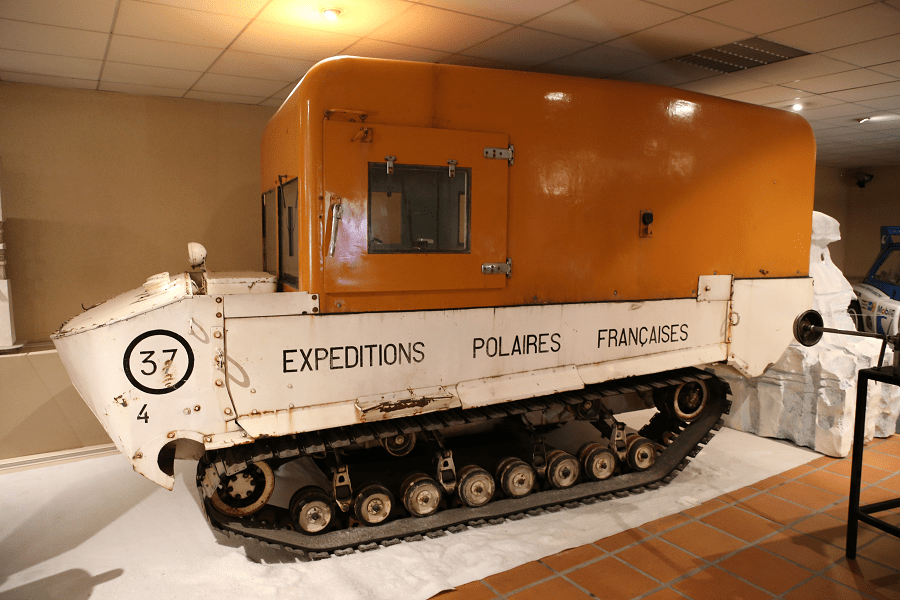 The M29 Weasel was a World War II tracked vehicle, built by Studebaker, designed for operation in snow. 6 cylinders, 75 HP.
Monaco car museum.
The M29 Weasel is a World War II tracked vehicle designed for operation in snow. Built by Studebaker, Weasels were also used in sandy, muddy, and desert terrains, including towing loads over terrain wheeled vehicles could not negotiate as in the US Marine invasions of Iwo Jima and Okinawa.
Standard M29s were semi-amphibious, but with a very low freeboard. A M29C Water Weasel version was produced with fore and aft buoyancy cells and twin rudders. Capable of operating in inland waterways, it however also saw limited action in surf conditions in the Pacific Theatre and during the landings on Walcheren in Europe.
The Weasel was designed by British inventor Geoffrey Pyke to support Project Plough, aimed at attacking Axis forces in Norway. The initial version, T15 (later M28), featured a rear engine, front wheel drive system, 15-inch Kégresse-style tracks, and a two-passenger capacity. The later M29 version had a front engine, rear wheel drive system, 20-inch tracks, larger passenger/load capacity, and improved amphibious capabilities. The M29C Water Weasel was more amphibious with buoyancy cells and twin rudders but limited to inland waterway conditions. The bogie wheel arrangement differs between M28 and M29 versions.