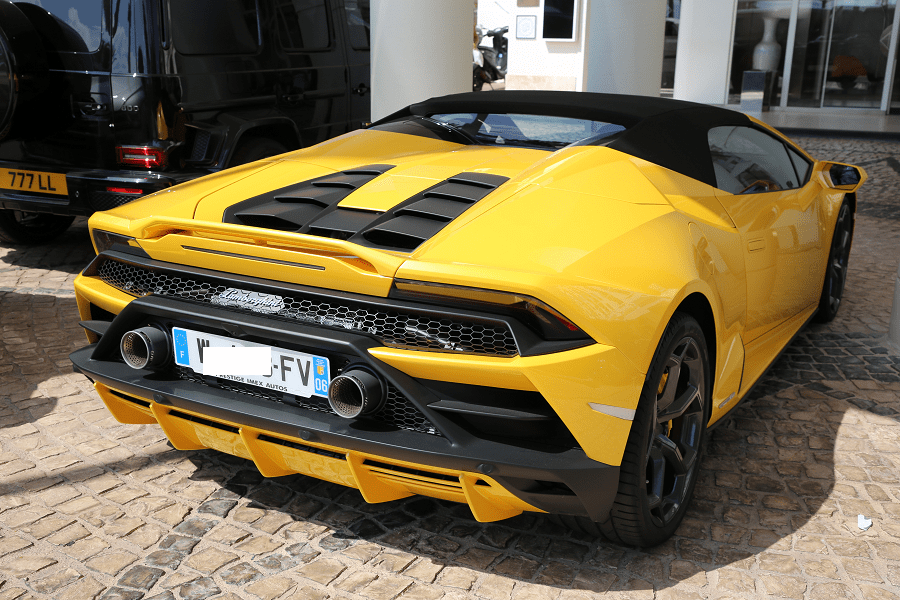 Lamborghini Huracan Evo. Yellow version in Cannes.
Huracán Evo (2019–present)
The Huracán received a mid-cycle update in 2019, now being called the Huracán Evo. It now shares its engine and some of the technology with the Performante variant.
The updated version of the Huracán has a more aggressive design language, the new front bumper has integrated aeroblades for improved downforce along with the rear styling inspired by the Performante variant, having the same rear diffuser, exhaust pipe position and radiators. A new ducktail spoiler improves downforce by 5 times as compared to the outgoing model.
The engine is shared with the Performante and generates 471 kW (631 hp; 640 PS) at 8,000 rpm and 601 N⋅m (443 lb⋅ft) of torque at 6,500 rpm. The exhaust system is more refined and has titanium intake valves. This allows the car to achieve a 0–97 km/h (0–60 mph) acceleration time of 2.9 seconds, 0–200 km/h (0–124 mph) acceleration time of 9 seconds and a top speed of 325 km/h (202 mph). The car has a braking distance from 100–0 km/h (62–0 mph) of 104 ft (32 m).
The Huracán Evo has a rear-wheel steering system for improved handling and a torque vectoring system. A new central processing unit controls the various functions of the car and monitors various settings. The control system is controlled by the new infotainment system (via an 8.4 inch touchscreen) dubbed the Lamborghini Dinamica Veicolo Integrata which has integrated both Apple CarPlay and Android Auto. The infotainment system predicts the driving modes by a feed forward logic.
The feed forward logic works by sensors monitoring the lateral, longitudinal and vertical accelerations, as well as roll, pitch and yaw rate to predict the best possible driving mode for the driver. The magnetorheological suspension is also revised and now uses electromagnetic current to adjust the suspension system in accordance with the driving mode.
The transmission system from the outgoing model is retained which transfers power to all four wheels. A new Ego mode allows the driver to change driving settings to their own preference.
The Lamborghini Huracán is a sports car manufactured by Italian automotive manufacturer Lamborghini replacing the previous V10 offering, the Gallardo.
The Huracán was revealed online in December 2013, making its worldwide debut at the 2014 Geneva Auto Show, and was released in the market in the second quarter of 2014.