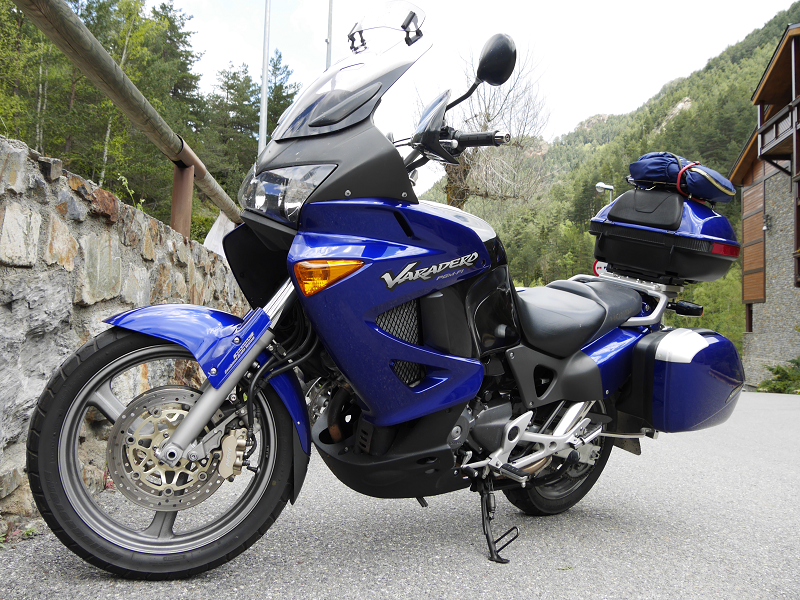 Honda XL 1000 V Varadero PGM F-1: blue color 
The Honda XL1000V Varadero is a dual-sport motorcycle produced by Honda. Different models have been in production from 1998 to 2013. Fuel injection was introduced in 2003, which offered a smoother motor and throttle operation, as well as ABS. It has capabilities for long road trips and limited off-road use. A smaller 125 cc (7.6 cu in) version, the XL125V Varadero is also produced.
Varadero is the big brother of the Transalp. Since 2015, a newer design, the Africa Twin 1000, has been produced, and in some markets offering a DCT transmission.
Honda's earliest XL1000V Varadero flagship Adventure Touring motorcycle with a 996 cc V-twin engine was introduced to the public at the 1998 Munich motorcycle show. First launched in 1998 as a 1999 Model Year, its engine architecture is based on the Honda VTR1000F Firestorm/Superhawk. The Adventure category refers to motorcycles that are designed for long-range touring with basic off-road capability, hence the term Adventure used by Honda as opposed to Dual Sport as used on the Honda XR650L.
All versions feature a liquid-cooled V-twin engine. In 2001, Honda introduced its Honda Ignition Security System (HISS), essentially an engine immobilizer system similar to the ones used in automobiles.