The Grimaldi castle (fr. Château Grimaldi) is a 14th-century French castle-keep at the top of Haut-de-Cagnes in Cagnes-sur-Mer in the Alpes-Maritimes on the Côte d´Azur. It is currently a museum since 1946 and a historical monument since 1948.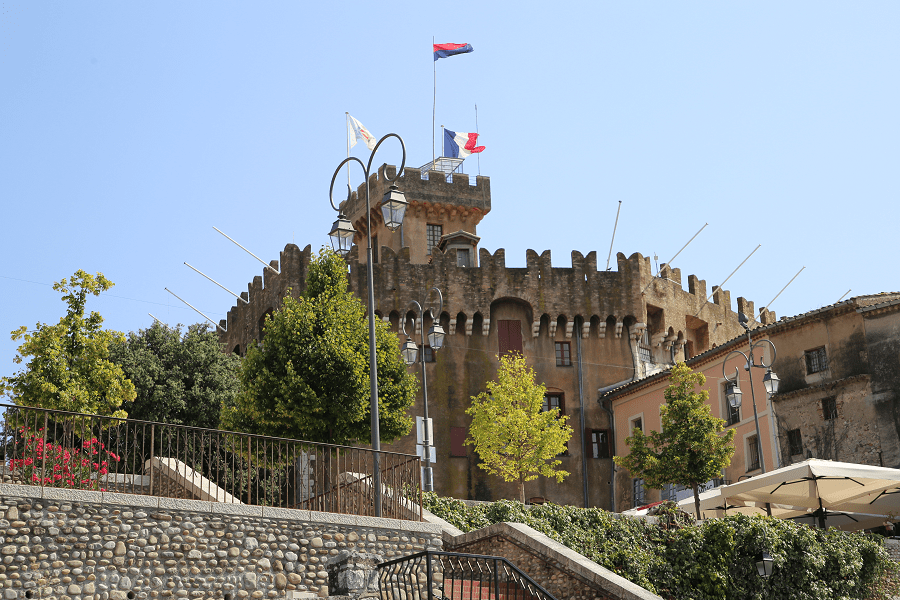 The castle built on the site of an earlier fortress occupied by the Greeks and then the Romans. The present castle was built in 1309 by Rainier Grimaldi (Lord of Cagnes and an admiral of France) – a distant ancestor of the present ruling house of Monaco. Later it became the residence of the Governors of the province. Following the French Revolution, it was used as barracks and later as a hospital.  Bought by the municipality in 1939, the castle was transformed into a museum in 1946.
Museum of Modern Art and Ethnography
On the ground floor of the 14-century lower rooms is a wall book relating the history of Cagnes, the Grimaldis and the citadel.
An oratory dating from the 17th century is dedicated first to Saint Rose and then to Saint Anne. The ceiling is decorated in the Louis XIII style with plasterwork. Cartouches represent Justice, Temperance, Strength and Prudence.
The Carlone Salon (the village hall) is adorned with a painted ceiling that represents the "fall of Phaeton", long attributed to Giovanni Battista Carlone, made by the Genoese painter Giulio Benso in 1620.
Modern Art Museum: Portraits by Jean Cocteau, Raoul Dufy, Tsugouharu Foujita, Tamara de Lempicka, Francis Picabia, Kees van Dongen, watercolor view of the old town by Alexis Mossa. The museum also offers temporary exhibitions of contemporary art as part of its International Painting Festival.
Ethnographic museum of the olive tree (culture, history, oil making).
Working hours: 
Opening hours: 10:00-12:00 14:00-17:00 (01/10-31/03) – 10:00-12:00 14:00-18:00 (01/04-30/06 et 01/09-30/09) – 10:00-13:00 14:00-18:00 (01/07-31/08)
Annual closing: 01/01, 25/12
Weekly closing: Tuesday all day
Address: Place du Château – Haut-de-Cagnes – 06800 CAGNES-SUR-MER, tel.: +33(0)4 92 02 47 35
Coordinates: 43° 40′ 01″ N, 7° 08′ 44″ E