Green Jaguar SS 1.6 Saloon from 1937
SS Cars was a British manufacturer of sports saloon cars from 1934 until wartime 1940, and from March 1935 of a limited number of open 2-seater sports cars. From September 1935, their new models displayed a new name: SS Jaguar.
By then, its business, which was founded in 1922, was run by and largely owned by William Lyons. Lyons had been partner with 1922 co-founder William Walmsley until Walmsley sold his shareholding in January 1935.
The company that owned the business, S. S. Cars Limited, bought the shares of Swallow Coachbuilding Limited as of 31 July 1934 and the Swallow company was liquidated before S. S. issued shares to the public in January 1935.
This was the time when Walmsley finished selling his holding. S. S. Cars Limited changed its name to Jaguar Cars Limited 23 March 1945.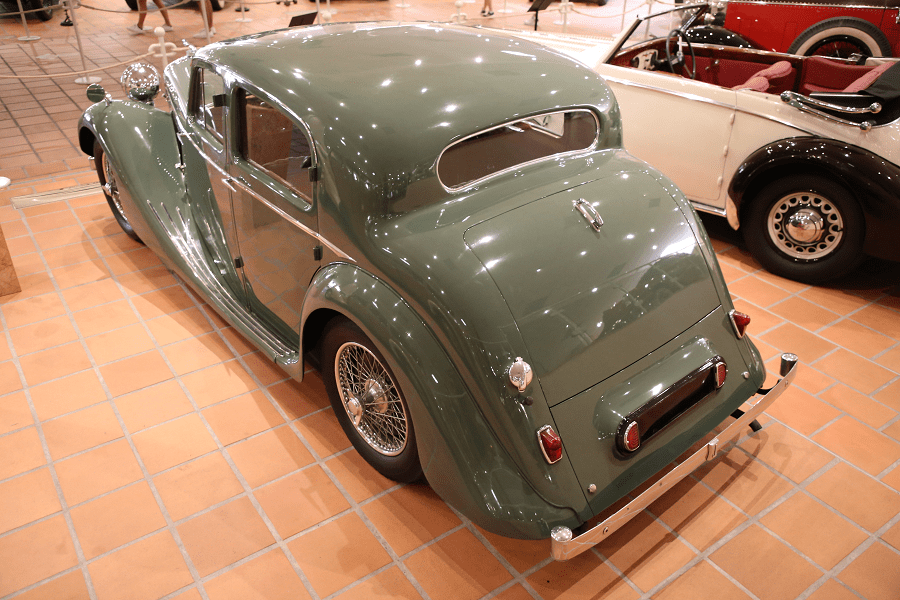 SS Jaguar and Jaguar 1½ Litre
The smallest model of the range originally featured a 1608 cc side valve Standard engine but from 1938 this was replaced by a 1776 cc overhead-valve unit still from Standard who also supplied the four-speed manual transmission.
Pre-war the car was available as a saloon or drophead coupé but post war only the closed model was made. Up to 1938 body construction on all the models was by the traditional steel on wood method but in that year it changed to all steel. Performance was not a strong point but 70 mph (113 km/h) was possible: the car featured the same cabin dimensions and well-appointed interior as its longer-engined brothers.
Despite its lack of out-and-out performance, a report of the time, comparing the 4-cylinder 1½-litre with its 6-cylinder siblings, opined that the smallest-engined version of the car was "as is often the case … the sweetest running car" with a "big car cruising gait in the sixties".
Mechanically operated brakes using a Girling system were fitted.