Alstom SNCF Régiolis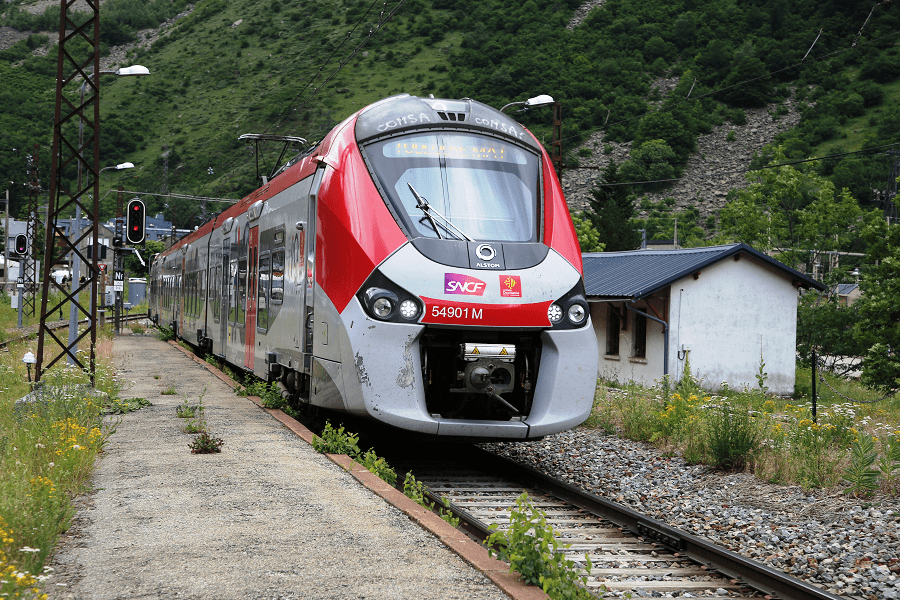 The Régiolis is a category of multiple unit train built by Alstom coming from the Coradia family. The first train was presented on July 4, 2013 in Aquitaine, and the first commissioning took place on April 22, 2014 on the TER Aquitaine network, more than a year behind the initial schedule.
In the 2000s, the delivery of several hundred new trains, X TER, A TER, AGC, or TER 2N NG provided significant modernizations of the regional electrical and diesel fleet. However, in the early 2010s, old types of rolling stock dating from the 1970s and 1980s continued to operate, it became necessary to continue the renewal and growth of the fleet during the period 2013 – 2022 due increasing TER network usage.
This desire manifested itself with a call for tenders from SNCF, for the design of a new type of train, the "versatile carrier" ("porteur polyvalent" in French). Following the Grenelle Environnement and the successful usage of AGC dual-mode equipment, this equipment must not only have a diesel version, but electrical and dual-mode versions, to avoid any usage of the diesel engines where overhead catenary is available.
While Bombardier Transportation won a few years ago the contract for 700 AGC trains for the TER, Alstom won the contract this time, allowing the manufacturer to manufacture new equipment for French regional traffic. The imagined train, the Régiolis, is offered in electric and dual-mode-bicurrent version, allowing these trains to run on the entire French normal-gauge network, like the B 82500 of the competing manufacturer Bombardier.
In addition, a tricurrent version with 15 kV at a frequency of 16.7 Hz is also available, allowing cross-border services to Germany and Switzerland. The Régiolis is presented as "a modular train that knows how to do everything" and proposed in three versions with three, four or six coaches, and three types of development, peri-urban, regional or intercity. Like the manufacturer's AGV, or Bombardier Z 50000 and Regio 2N, the train is designed with an articulated architecture, with the bogies arranged between the cars.
Manufacturer: Alstom (France) and CAF (Spain)
Years of production: 2014—
Production: 378 (365 in service)
Capacity: 222 seats
Track gauge: 1435 mm
Power output: 1800 kW
Max speed: 160 km/h