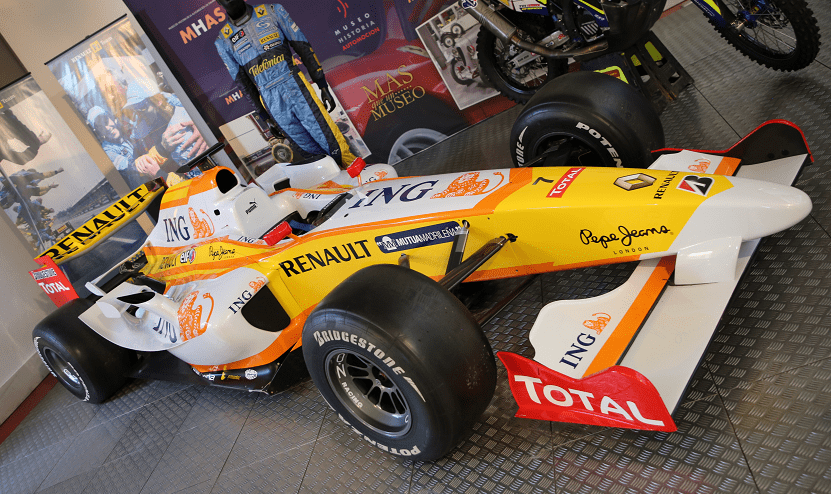 The Renault R29 is a Formula One racing car designed by the Renault F1 Team, with which they contested the 2009 Formula One World Championship (originally as ING Renault F1 Team, then, following loss of title sponsorship from the ING Group after "Crashgate", Renault F1 Team). The chassis was designed by Bob Bell, James Allison, Tim Densham and Dirk de Beer with Pat Symonds overseeing the design and production of the car as Executive Director of Engineering and Rob White leading the engine design. The car was driven by Fernando Alonso, Nelson Piquet Jr. and Romain Grosjean.
The R29 was launched on 19 January 2009 at the Algarve circuit in Portugal.
Initial testing was conducted at the Portimao circuit along with rivals Williams, McLaren, Toyota and Toro Rosso from 19 January 2009 to 22 January 2009. Nelson Piquet Jr. was scheduled to drive for the first two days, followed by Fernando Alonso on the final two.
Chassis: Moulded carbon fibre and aluminium honeycomb composite monocoque, with engine incorporated as a fully stressed member.
Suspension (front): Carbon fibre double wishbone, operating inboard torsion bar and damper units via a pushrod system.
Suspension (rear): As front.
Length: 4,800 mm (190 in)
Width: 1,800 mm (71 in)
Height: 950 mm (37 in)
Engine: Renault RS27 2,400 cc (146.5 cu in) 90° V8 with KERS, limited to 18,000 RPM, naturally aspirated, mid-mounted.
Transmission: Seven-speed semi-automatic carbon-titanium gearbox with reverse gear. "Quickshift" system.
Power >750 hp @ 18,000 rpm
Fuel: Total
Tyres: Bridgestone Potenza