F1 Renault R26 from "Mild Seven Renault F1" team. Made in France in 2006, V8 and 600 kg. Fernando Alonso museum.
The Renault R26 is a Formula One racing car, used by the Renault F1 team in the 2006 Formula One season. The chassis was designed by Bob Bell, James Allison, Tim Densham and Dino Toso with Pat Symonds overseeing the design and production of the car as executive director of Engineering and Rob White leading the engine design. The car was driven by Fernando Alonso and Giancarlo Fisichella. Over the course of the season it scored 8 wins out of 18 races, followed closely by the rival Ferrari 248 F1.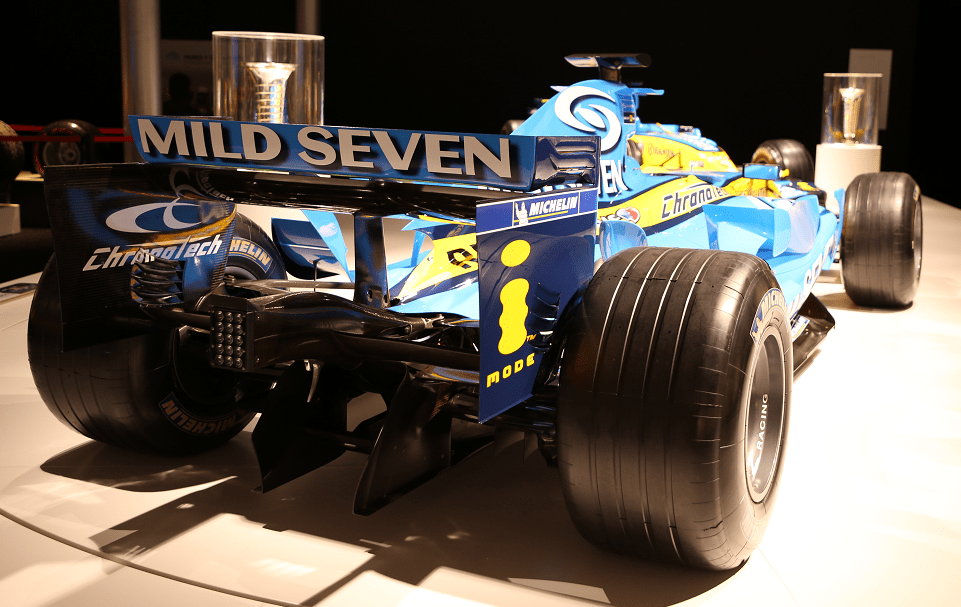 The R26 helped Renault in claiming the Constructors' Championship with a 5-point advantage over rival Ferrari, and also taking Fernando Alonso to his second Drivers' Championship in succession, 13 points ahead of rival Michael Schumacher. It brought the last Constructors' Championship in recent history to tyre manufacturer Michelin.
Renault used 'Mild Seven' logos in Bahrain, Malaysia, Australia, Spain, Monaco, United States, Hungary, China and Japan. In countries where advertising of tobacco products was not allowed, the Mild Seven text was replaced with "Team Spirit".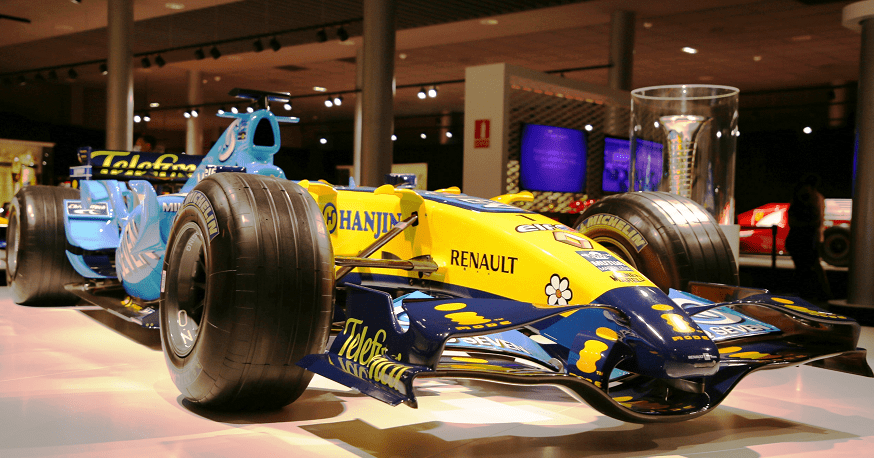 Like its rival the Ferrari 248 F1, the R26 was notable for its rock-solid reliability, chassis R26-03 driven by Fernando Alonso started all of the races of the 2006 season without the need to be replaced (F1 drivers usually go through multiple chassis in a season), it also led more laps and won more races than any single chassis in 2006 in addition to winning the world championship. R26-03 now sits at Renault's "Histoire et Collection" heritage collection in Paris.
The R26 was succeeded by the R27 for the 2007 season.
Chassis: Carbon fibre and honeycomb composite structure
Suspension (front): Double wishbone/pushrod operating torsion bar
Suspension (rear): As front
Length 4,800 mm (189 in)
Width 1,800 mm (71 in)
Height 950 mm (37 in)
Axle track 1,450 mm (57 in) (front)
1,400 mm (55 in) (rear)
Wheelbase 3,100 mm (122 in)
Engine: Mecachrome-built Renault RS26 (2.4L) 2,398 cc (146 cu in) V8 90° naturally aspirated, mid engined, longitudinally-mounted
Transmission: Renault 7-speed + 1 reverse titanium longitudinal sequential semi-automatic transmission
Power: 755-775 hp @ 20,500 rpm
Weight: 605 kg (1,334 lb) with driver, camera and ballast
Fuel: Elf Atmo 98.5 RON
Lubricants: Elf Evolution 900 SXR
Tyres: Michelin