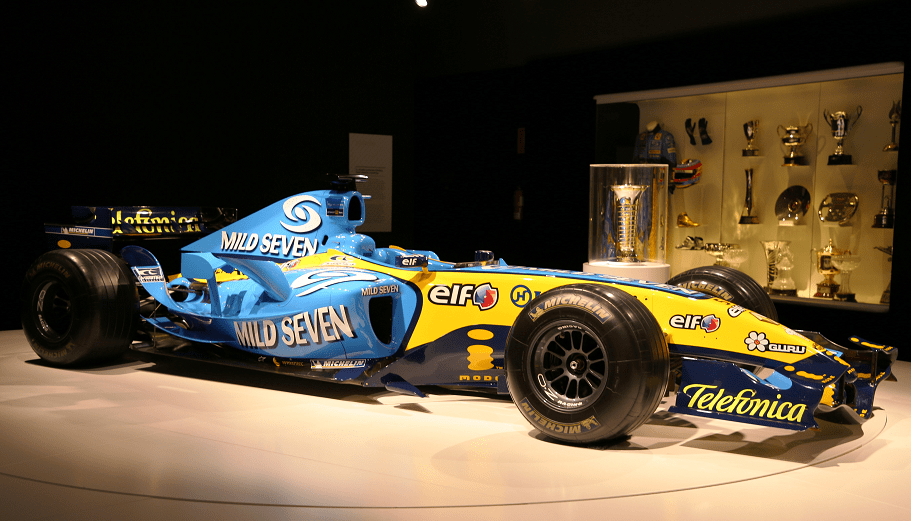 Formula One Renault R25 from "Mild Seven Renault F1" team. Made in France in 2005, V10 and 605 kg. Fernando Alonso museum.
The Renault R25 was the Formula One car entered by Renault in the 2005 season. The chassis was designed by Bob Bell, James Allison, Tim Densham and Dino Toso with Pat Symonds overseeing the design and production of the car as executive director of Engineering and Bernard Dudot leading the engine design. The car won both the Drivers' and Constructors' Championships in 2005, the first titles for any car racing with a French licence since the Matra MS80's triumph in the 1969 season. It also secured the first championship titles for a Formula One car racing with a Renault engine since the Williams FW19 in 1997.
During the season, the car turned out to be slower than the McLaren MP4-20 at numerous points, with the win tally being 8–10. Reliability and consistency prevailed in the end, with Fernando Alonso and Giancarlo Fisichella taking the car to the last win and titles for a V10 powered Formula One car, marking the end of an era.
Chassis: Carbon-fibre monocoque
Length: 4,600 mm (181 in)
Width: 1,800 mm (71 in)
Height: 950 mm (37 in)
Axle track: 1,450 mm (57 in) (front), 1,400 mm (55 in) (rear)
Wheelbase: 3,100 mm (122 in)
Engine: Mecachrome-built Renault RS25 3.0 L (183 cu in) V10 72° naturally aspirated, mid engined, longitudinally-mounted
Transmission: Renault 6-speed sequential semi-automatic gearbox
Power: 800–900 hp (597–671 kW) @ 19,000 RPM
Weight: 605 kg (1,334 lb) with driver, camera and ballast
Fuel: Elf
Lubricants: Elf
Tyres: Michelin