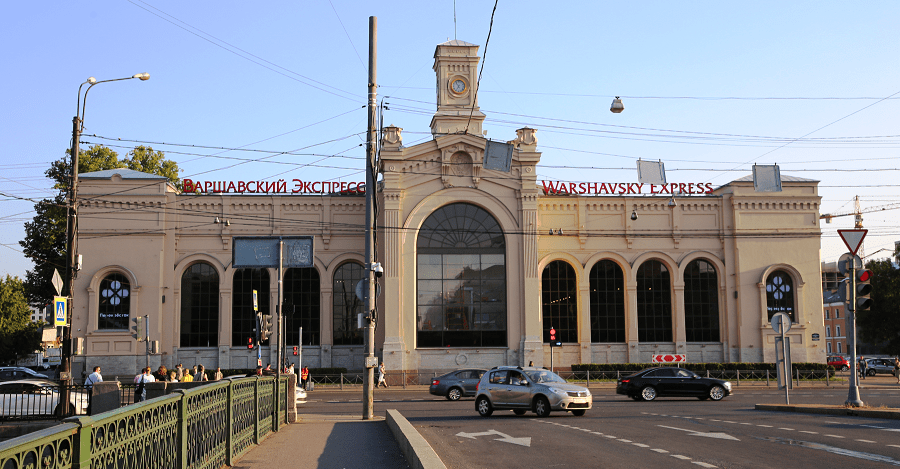 Warsaw (Varshavsky) railway station is a historical building of the abolished railway station at the starting station of the Petersburg-Warsaw railway (since 1907 – the North-Western railway) in Admiralteysky district of St. Petersburg.
Currently, it is an architectural monument, reconstructed into a shopping and entertainment complex.
The station was built in 1852-1853 according to the project of the architect K. A. Skarzhinsky for the railway from the capital to the royal residence in Gatchina. The length of the road was 44.6 km, the road was opened on October 31 (November 12), 1853. The building was originally surrounded by platforms on three sides, covered by an arched structure made of metal and glass.
In 1857-1860, in order to expand the station, a new building was built (architect P.O. Salmanovich), two stone houses for employees (one has been preserved), and the railway landing stage was reconstructed. The glass-filled iron frame that covered the entire opening of the landing platforms was in line with the advanced architectural trends of the time, but proved to be expensive to operate and polluted by locomotive smoke.
The trains of the Varshavsky line were distinguished by comfortable and richly furnished carriages, intended primarily for first-class passengers. The imperial train and a number of "family" trains, belonging to the richest and most influential Russian families, went along this road. Warsaw station was the window to all European cities.
Since 2001 the movement of suburban electric trains on the Varshavskaya line has ceased. In 2011-2012, the contact suspension on the Varshavskaya line (to the Bronevaya station) was partially dismantled, and in 2013 the contact network supports were completely removed. In 2012-2013, the Corpusnoe Highway platform and railway tracks were completely dismantled. Suburban trains were completely transferred to the nearest Baltic railway station.
The working hours of the shopping center: Mon: 05:00-00:00, Tue: 05:00-00:00, Wed: 05:00-00:00, Thu: 05:00-00:00, Fri: 05:00-00:00 00:00, Sat: 05:00-00:00, Sun: 05:00-00:00.
Address: Ⓜ Baltiyskaya, Obvodny Canal emb., 118C