Ford Escort RS: blue Cosworth
The Ford Escort RS Cosworth is a rally version homologation special of the fifth generation European Ford Escort. It was designed to qualify as a Group A car for the World Rally Championship, in which it competed between 1993 and 1998.
It was available as a road car from 1992 until 1996 in very limited numbers. The first 2500 cars made before 1 January 1993 are in fact "Homologation special versions." It was instantly recognisable due to its large "whale tail" rear spoiler. One of the main selling points was the Cosworth YBT, a highly tunable turbocharged 2.0 L (1,993 cc) with a bore x stroke of 90.8 mm × 77 mm (3.57 in × 3.03 in) Inline-four engine which had an output of 227 PS (167 kW; 224 bhp) in standard trim. Tuning companies have achieved power outputs of over 1,000 bhp (746 kW; 1,014 PS).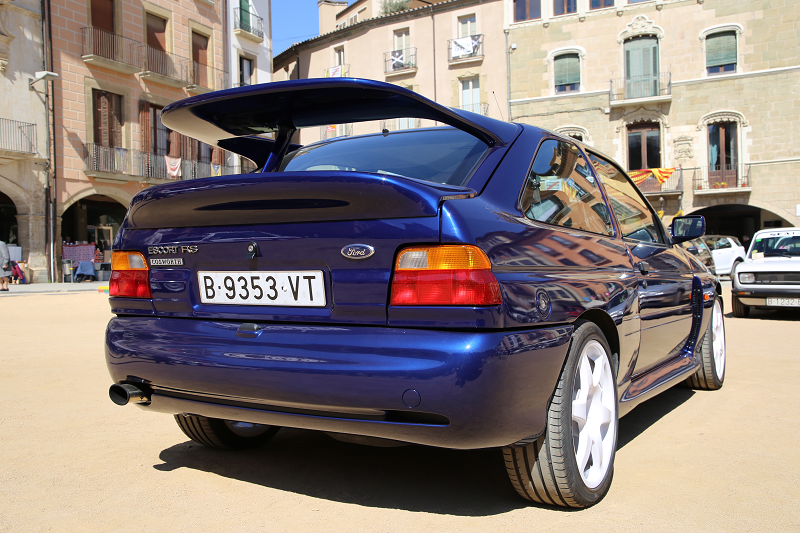 Max power of the road version officially from Ford was 227 PS (224 bhp; 167 kW) at 6,250 rpm and 304 N⋅m; 224 lbf⋅ft (31 kg⋅m) of torque at 3,500 rpm on 95 RON petrol and a max speed of 232 km/h (144 mph) (GPS) and 237 km/h (147 mph) without the big rear wing, while 0–100 km/h (62 mph) takes 5.7 sec. Standard boost from Garrett AiResearch T3/T04B turbocharger was 0.8 bar (12 psi) with 1.0-1.1 bar overboost. The car weight was 1,275 kg (2,811 lb) or 1,310 kg (2,890 lb) for the Lux edition.
The Escort RS Cosworth was the first mass production car to produce downforce at the front and rear (at front 4.6 kg/45Newton at 180 km/h (110 mph) with adjustable front splitter in middle position and 19.4 kg/190Newton downforce with the rear large wing).
The car's top speed was 150 mph (240 km/h), which rivalled cars including the Audi Quattro, BMW M3, Nissan 300ZX, and Toyota Supra, and comfortably outperformed traditional "hot hatchbacks" like the Volkswagen Golf GTI.
Production: February 1992-January 1996. 7,145 produced
Assembly: Rheine, Germany (Karmann)
Designer: Stephen Harper, John Wheeler