Deba (Sp. Deva) is a town in the autonomous community of Basque Country, in the north of Spain.
Located to the northwest of the province of Guipúzcoa and located at the mouth of the Deba river, it belongs to the Bajo Deba region. It holds the titles of "Very noble and very loyal city".
It has a large beach, which is its main tourist attraction. Today it is a popular resort on the Costa Vasca (Basque Coast) of the Atlantic resorts of Spain.
The coast stands out for the so-called tidal flat that extends to Zumaya. It is located on the right bank of the estuary that the Deva River forms at its mouth; In it, in another time, there was an important commercial port. Currently it is only used as a sports and recreational port.
Main attractions
Parish Church of Santa María, from the 15th century (completed in the 17th), declared a National Monument. Gothic building with an imposing polychrome portal and Gothic cloister, the first in Guipúzcoa.
Sanctuary of Icíar, old parish church, dates from the 13th century and was reformed in the 16th. Gothic, in three sections inside it houses a magnificent Plateresque altarpiece carved in wood by Andrés de Araoz in the 16th century and the Romanesque image of the Virgin.
Hospital de Sasiola Convent, from the 16th or 17th century and declared a provincial monument in 1964, it was the convent of the Observant Minor Friars and hospital for pilgrims on the Way of St. James to Santiago.
The town hall, from 1747 and designed by Ignacio de Ibero, is an imposing Baroque building, in Herrerian taste, made of limestone masonry.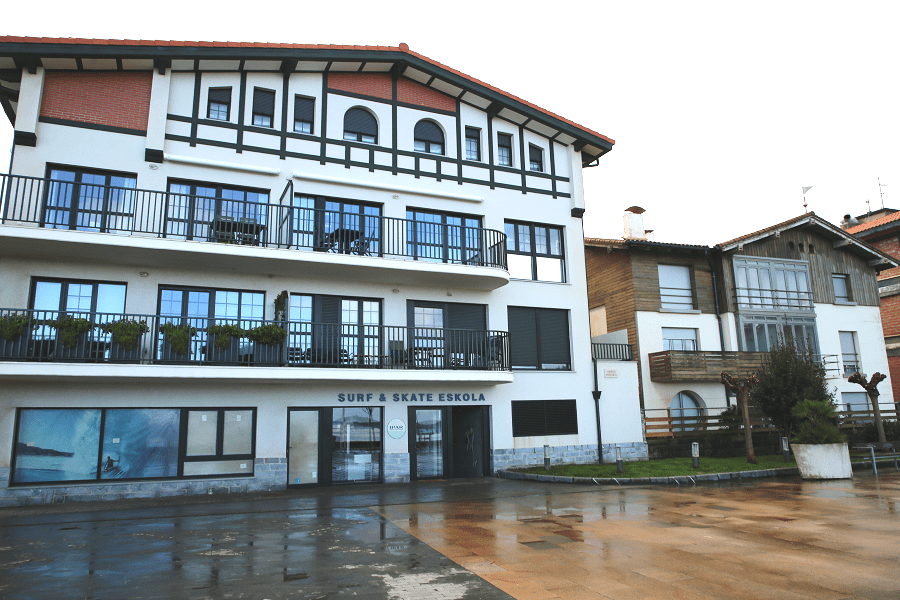 Casa Aguirre or Valmar, from the 15th century, the main façade is built in ashlar masonry.
Casa Aldazabal, with balconies with its decorated stone masonry, wrought iron railings and its two coats of arms, make its entire façade a very harmonious whole.
Casa de Báñez, with a rectangular floor plan and hipped roof, bears the shields of Sasiola and Báñez on its façade.
Torre de Sasiola, an old medieval tower house, still preserves elements belonging to that defensive construction.
Market Square, from the early 20th century, designed by Manuel Echave Zalacain in 1905 and built in 1910, has been a Monument of the Basque Country since 1995.
Beaches
Santiago beach and Lapari beach, a short walk away from the town centre. In addition, many small coves can be found along the coastal footpath known as the Flysch Trail (GR-121).
How to get to?
By car:
From San Sebastian 37 min (41.8 km) via AP-8
From Vitoria 55 min (67.5 km) via AP-1
From Bilbao 49 min (68.0 km) via AP-8
From Madrid 4 hr 25 min (423 km) via A-1 and AP-1
Main information
Area: 50 km²
Coordinates: 43°17′43″N 2°21′00″W
Population: 5441
Languages: Spanish, Basque
Currency: Euro
Visa: Schengen
Time: Central European UTC +1
See here best sea and ocean resorts of France and Spain (223 objects)