Dassault MD.454 Mystère IV A: French fighter-bomber aircraft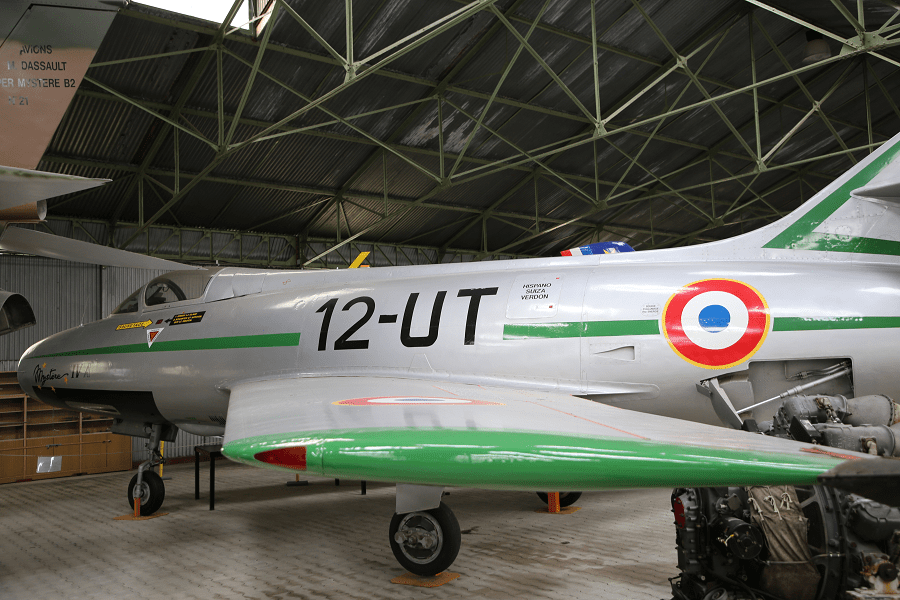 The Mystère IV was an evolutionary development of the Mystère II aircraft. Although bearing an external resemblance to the earlier aircraft, the Mystère IV was in fact a new design with aerodynamic improvements for supersonic flight.
The prototype first flew on 28 September 1952, and the aircraft entered service in April 1953. The first 50 Mystere IVA production aircraft were powered by British Rolls-Royce Tay turbojets, while the remainder had the French-built Hispano-Suiza Verdon 350 version of that engine.
Israeli Mystère IVs saw action during the Arab–Israeli wars and were joined by the French Mystères for the Suez crisis.
France was the main operator of the Mystère IV and at the peak usage operated 6 squadrons. Most of the aircraft were purchased under a United States Offshore Procurement contract and many were returned to US custody after they were retired. In April 1953 the United States government and the United States Air Force placed an order for 223 aircraft to be operated by the French.
The Mystère IV became Israel's first swept-wing fighter when an order for Mystère IIs was changed to 24 Mystère IVs in 1955, which were delivered from April to June 1956, equipping 101 Squadron. A further 36 were delivered in August 1956, with a final aircraft, equipped for reconnaissance duties, delivered in September 1956.
On 29 October 1956, when Israel attacked Egypt in the opening move of what became known as the Suez Crisis, invading the Sinai Peninsula, the Mystères of 101 Squadron were deployed on both air-to-air and ground attack missions. On 30 October the Mystère IV got its first kill when eight aircraft fought 16 Egyptian Air Force MiG-15.
The Mystères shot down one MiG while a second MiG and one of the Mystères were damaged. On the next day, two Mystères engaged claimed four Egyptian De Havilland Vampires shot down, with another MiG-15 and a MiG-17 claimed later that day. Israeli Mystères flew a total of 147 sorties during the war, for the loss of a single aircraft, shot down by ground fire on 2 November.
Aviation museum (Montelimar) and Old wings (Toulouse)