Corme-Puerto or Nuestra Señora de los Remedios de Corme-Porto (officially called Nosa Señora dos Remedios de Corme Porto) is a parish and a city in the municipality of Puenteceso, in the province of La Coruña, Galicia, Spain.
Corme is a part of the resorts of Costa da Morte (Coast of Death) of the Atlantic resorts of Spain.
Main attractions
In addition to the urban nucleus, tourists usually go to La Punta de O Roncudo, from a road that leaves from the port of Corme. The road borders the sea and offers beautiful views over the estuary and access to small coves with little frequented beaches. At the end of the road there is the lighthouse of O Roncudo, named for the snore that the sea produces in this place when it hits the cliffs with force.
All along the coast, especially in those more beaten areas, we can find the famous barnacles of O Roncudo, whose gastronomic festival is held on the first Saturday of July.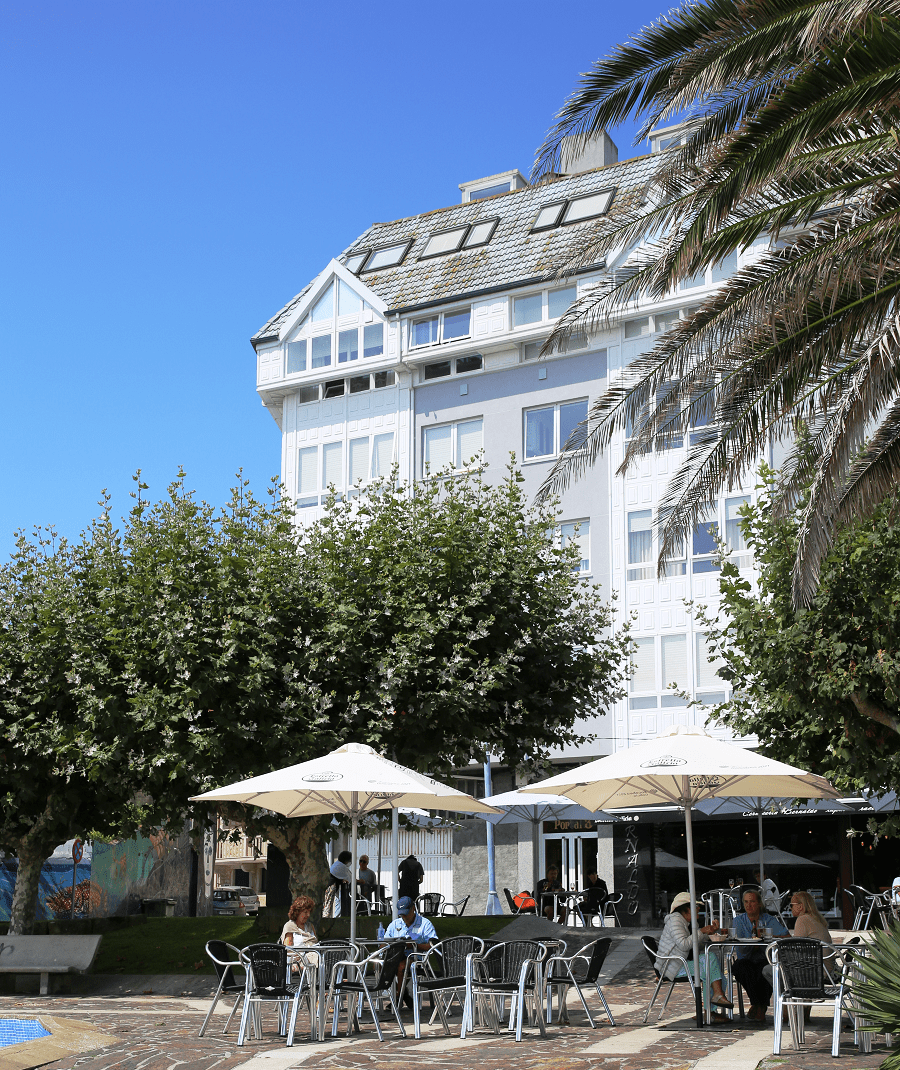 Beaches
Arnela beach: Small beach located in the center of town and linked to the Osmo beach by a promenade. It has showers and lifeguard service.
Osmo Beach: Main and favorite beach of the Cormeláns. It can be accessed by road, in a detour that is on the left at the entrance of the town, or pedestrian through the promenade that connects this beach with the neighboring Arnela beach. It has a small parking lot, showers, beach volleyball court and lifeguard service. Blue Flag in 2017.
Furna do Osmo beach: In Galician a furna is a large natural cavity opened in the rocks. Next to the Osmo beach there is a small furna with a sandy area that is highly appreciated for its tranquility and its shelter from the prevailing northeast winds. In the month of July the concert "Noite dos Encantos" is held on this beach.
Ermida Beach: It is the largest of the Corme beaches, and also the furthest, although it is easily reached. In it we find the island of the Star. It is a very quiet beach, with a beautiful pine forest.
Other beaches: Inside the estuary we can also highlight the small coves accessible from the road that goes to Cape Roncudo (such as the Area das Cunchas, Insua or Gralleiras) and which are characterized by their tranquility since they are little frequented. Outside the estuary we can highlight the Barda beach, whose cove serves as a refuge for small fishing boats. Although it is a beach suitable for swimming, it is considered dangerous as it is in the open sea and does not have a lifeguard service.
How to get to?
The nearest airport is A Coruna (LCG).
From A Coruña 52 min (61.0 km) via AG-55
From Santiago de Compostela 1 hr 22 min (73.7 km) via AC-404
From Madrid 6 hr 2 min (649 km) via A-6
Main information
Area: 3 km² (municipality)
Coordinates: 43°15′54″N 8°57′46″W
Population: 1069
Languages: Spanish, Galician
Currency: Euro
Visa: Schengen
Time: Central European UTC +1
See here best sea and ocean resorts of France and Spain (223 objects)