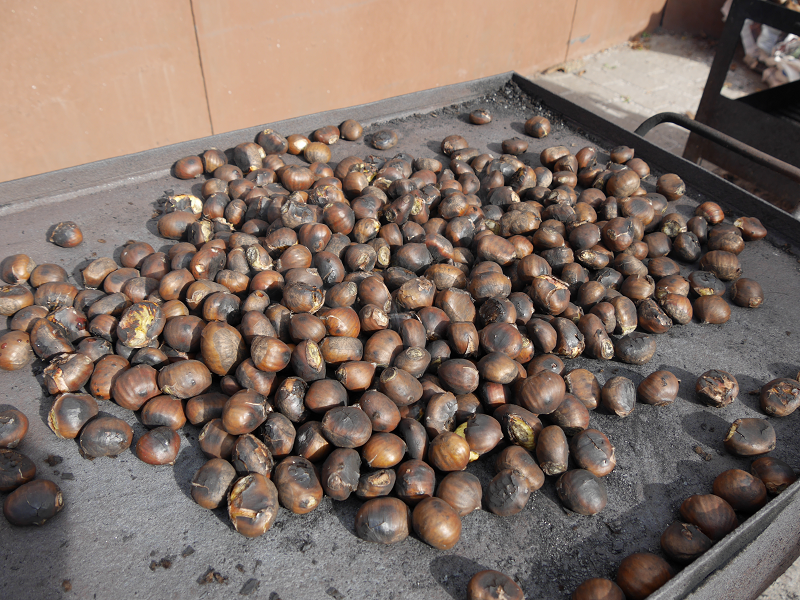 Cooking chestnuts
How to cook chestnuts:
La Castanyada or Chestnut Day (October 31st) is a national holiday in Catalonia and Andorra, so Andorrans know how to cook chestnuts well.
Since the Middle Ages, chestnuts have been roasted over open fires in large braziers, filling the air with a sweetish, smoky smell. They are typically eaten with sweet baked potatoes (moniato), pastry (panellets) and sweet white wine (vi ranci and moscatell). Some time later, a more traditional delicacy was added to the list of delights – the sweet buns "panelles".
At home, Andorrans generally prefer to cook chestnuts in a mangal over an open fire. It's not typical to cook chestnuts in the oven.
During the holiday, only fresh chestnuts from the last harvest are used. In the shops, fresh chestnuts begin to be sold from the beginning of October and are available until about February-March, depending on the size of the year's harvest.
The traditional recipe for cooking chestnuts involves a thorough inspection of the nuts. It is necessary to exclude superfluous, rotten, or soft chestnuts, alongside those with cracks or mold. Dents on fruits are also not allowed. Then it is necessary to wash the selected fruits with warm water (15-20 C) and soak them for 5 minutes. Afterwards, the beans are dried at room temperature to a natural state on wooden surfaces.
Roasting on the grill requires a pan. Andorrans believe that only pig iron is suitable for these purposes. When roasting chestnuts on steel (or other metals), the presence of other metals in the material gives chestnuts a foreign taste. The thickness of the pan does not matter, it only affects the speed of cooking.
The amount of firewood for roasting chestnuts depends on how many guests you want to treat, as well as on the size of the brazier. A brazier measuring 30X70 requires about 0.10 [m³] of dried firewood for frying 1 kg of chestnuts. The use of spruce trees is not advised – Andorrans use only birch, oak, or aspen.
Before roasting the chestnuts, it is necessary to open the shells in three places: two times in the lower (flat) part and once in the upper part.
Once the coals (about 3 cm) started to smoke evenly, you can place the chestnuts at a height of 15 cm from the bottom of the brazier. After 5-8 minutes, the nuts are turned over, after which they are kept on the grill for 5-8 minutes.