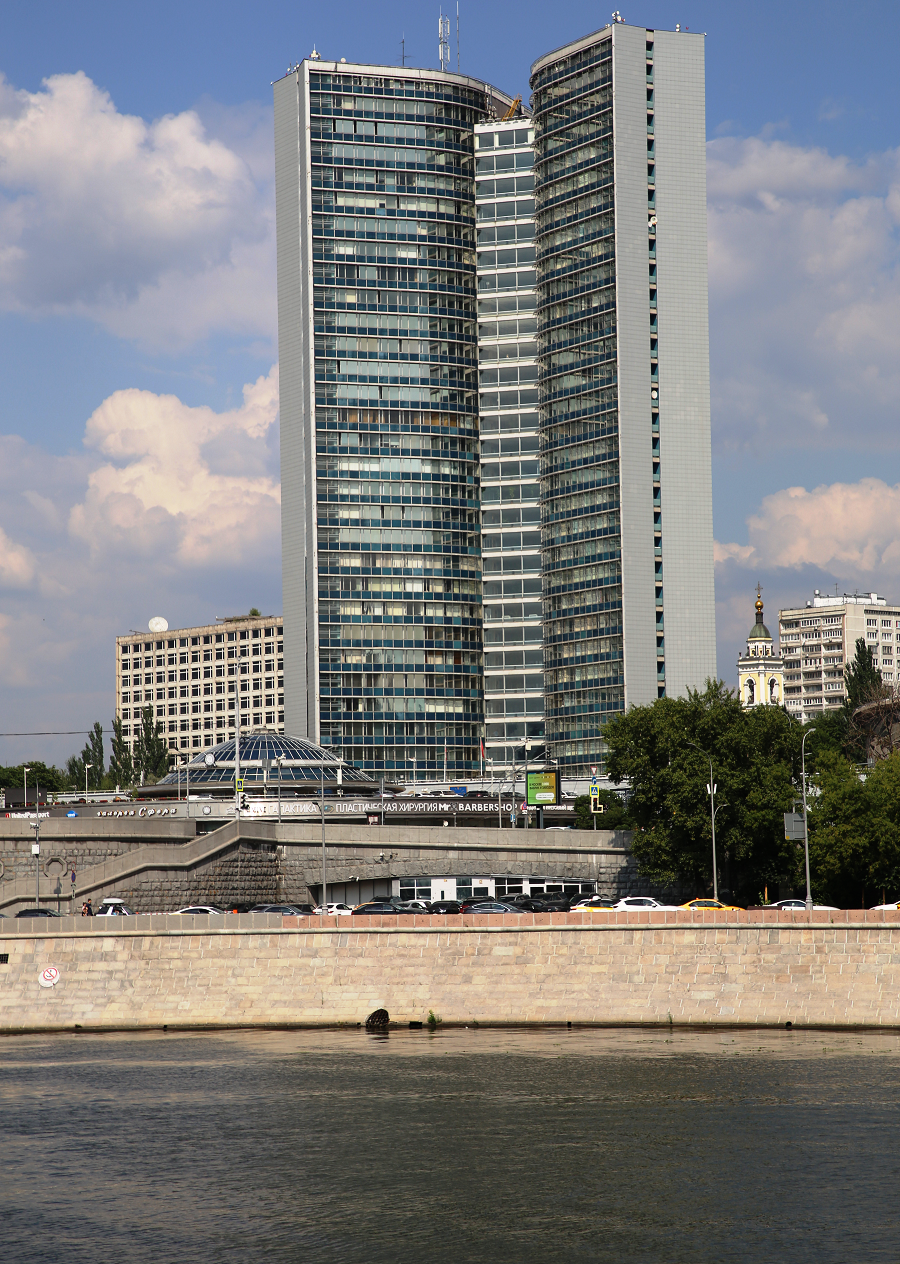 The complex of buildings of the secretariat of the Council for Mutual Economic Assistance (COMECON), also known as the Book House, is a complex of buildings located on the bank of the Moskva river at Novy Arbat, 36 in the Arbat district of the Central Administrative District of Moscow. The complex includes 3 buildings united by a common stylobate: a 31-storey administrative skyscraper, a conference center and a 13-storey Mir Hotel.
The buildings were erected in 1963-1970 to house the bodies of the Council for Mutual Economic Assistance, in 1991-1992 they were alienated in favor of the Moscow City Hall along with other CMEA real estate. The building housed the Moscow government, and in 1994 the building also housed the State Duma of the 1st convocation.
After completion, the complex became an important link in the Kalinin Avenue ensemble, completing the rhythmic row of skyscrapers on its even northern side, and also secured the intersection of the Moskva River with the city transport artery, becoming the dominant feature of the embankment prospects and completing the extended section of Kutuzovsky Prospekt.
All countries participating in the association took part in the construction: Mosstroy-4 acted as the general contractor, the Germans completed the laying of all electrical networks and supplied equipment, the Czechs provided and installed elevators, the Hungarians developed furniture and equipment for sound amplification and simultaneous translation, Bulgarian specialists were engaged in finishing and the installation of sliding partitions, a natural finishing stone was supplied from Romania, and in Poland the decoration of the ceiling of the conference room from aluminum elements was developed. After the opening, the building housed representative offices of the COMECON member countries, its central bodies, the Institute of Standardization, several meeting rooms and other administrative structures.
The Council for Mutual Economic Assistance (Russian: СЭВ; English abbreviation COMECON, CMEA, CEMA, or CAME) was an economic organization from 1949 to 1991 under the leadership of the Soviet Union that comprised the countries of the Eastern Bloc along with a number of socialist states elsewhere in the world.
The descriptive term was often applied to all multilateral activities involving members of the organization, rather than being restricted to the direct functions of COMECON and its organs. This usage was sometimes extended as well to bilateral relations among members because in the system of communist international economic relations, multilateral accords – typically of a general nature – tended to be implemented through a set of more detailed, bilateral agreements.
Comecon was the Eastern Bloc's response to the formation in Western Europe of the Marshall Plan and the OEEC, which later became the OECD.
Main attractions and facilities around: Kiyevsky railway station, Europe Square, Savvinskaya Embankment, Rostovskaya embankment, Bogdan Khmelnitsky Bridge, Radisson Slavyanskaya hotel, Smolenskaya embankment, Borodinsky Bridge.
Nearest metro: Kievskaya
See also Architecture of Moscow, Palaces and most historic buildings of Moscow.