Castillo de Colomares is a monument, in the form of a castle, dedicated to the life and adventures of Christopher Columbus, Andalusia. It was built near Benalmádena in Spain, between 1987 and 1994. Covering an area of 1,500 meters, it is the largest monument in the world to the explorer, but also contains the smallest church in the world, covering an area of just 1.96 square meters.
The building is the work of Esteban Martín Malaga, and mixes influences from different architectural styles such as Neo-Byzantine, Neo-Romanesque, Neo-Gothic and Neo-Mudejar. The materials used are brick, stone, and cement.  It also has stained glass windows in its interior.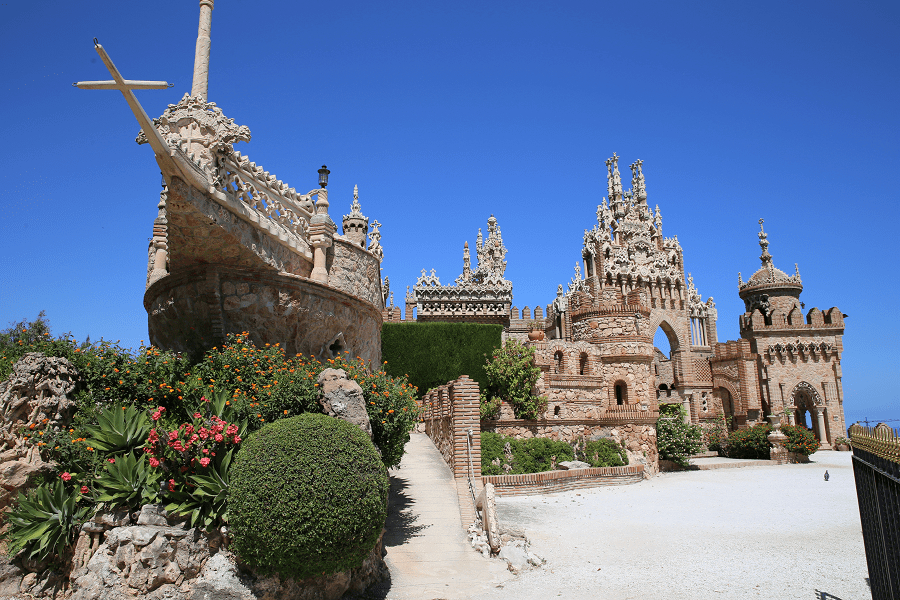 The monument presents various elements of the symbolism of the Catholic Monarchs, of the three cultures present in medieval Spain (Christianity, Judaism and Islam) and other elements of Columbus's journey. It is worth highlighting the presence of a Chinese pagoda that symbolizes the original idea of Columbus to reach the coasts of Asia.
The building claims the possible Majorcan origin of Christopher Columbus. It pays tribute to the figures of the Catholic Monarchs, Diego Arana, Vicente Yáñez and many other people who accompanied Columbus on his first trip.
GPS coordinates: 36°35′26″N 4°34′21″W
From Málaga 29 min (25.9 km) via MA-20 and AP-7