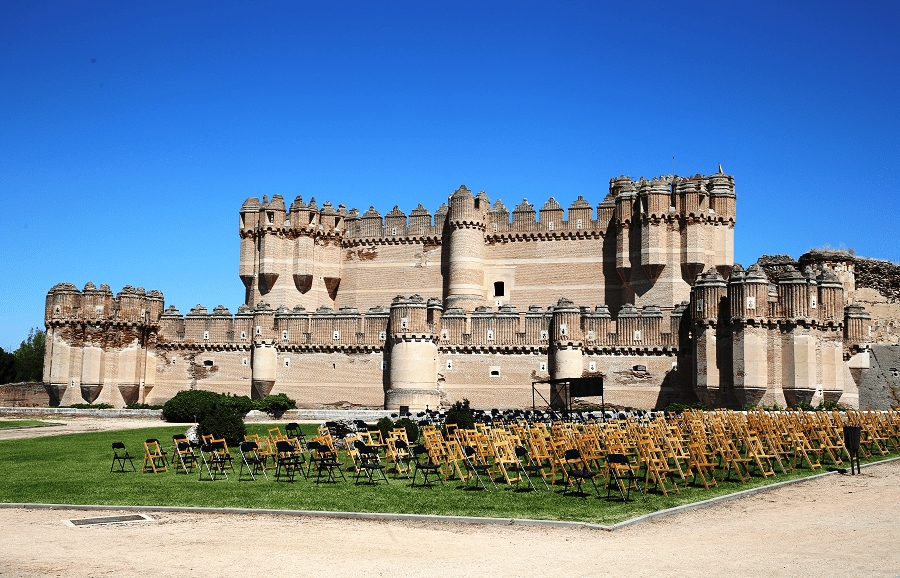 The Castle of Coca is a castle located in the Coca city and a municipality, the autonomous community of Castile and Leon, central Spain. The castle was constructed in the 15th century and has been considered to be one of the best examples of Spanish Mudejar brickwork which incorporates Moorish Muslim design and construction with Gothic architecture.
Coca castle was owned by the well-known Spanish aristocratic family the House of Alba de Tormes (sometimes known as the House of Alba) until the mid-twentieth century.
The House of Alba de Tormes is a prominent Spanish noble family that descended from 12th-century nobility of post-conquest Toledo. The family's claim to Alba de Tormes dates from 1429, when Gutierre Álvarez de Toledo became Lord of Alba de Tormes while serving as Bishop of Palencia.
They handed over the property to Ministry of Agriculture in 1954. It has been declared a Spanish National Monument and is under protection.
No major restorative work was done until 1954 when state-sponsored repairs and renovations were started. The Ministry in charge of the castle wanted to restore it so that they could open a school of forestry training. The repair and renovation work was conducted under the supervision of the Spanish avante garde architect Miguel de los Santos Nicolás. The team of architects, which included Francisco Pons Sorolla was given carte blanche by the General Directorate of Fine Arts. The renovations took four years and were completed in 1958. After the renovations the "Escuela de Capacitación Forestal" (Forestry school) was opened in 1958.
The castle is opened for the tourists.
Working hours
Hours
Sunday 11am – 1pm
4:30pm – 7pm
Monday 10:30am – 1pm
4:30pm – 7pm
Tuesday 10:30am – 1pm
4:30pm – 7pm
Wednesday 10:30am – 1pm
4:30pm – 7pm
Thursday 10:30am – 1pm
4:30pm – 7pm
Friday 10:30am – 1pm
4:30pm – 7pm
Saturday 11am – 1pm
4:30pm – 7pm
How to get to?
Address: Av. Banda de Música de, 40480 Coca, Segovia, Spain
From Segovia 46 min (52.1 km) via CL-605
From Valladolid 1 hr (63.4 km) via N-601
From Madrid 1 hr 38 min (143 km) via AP-6
GPS coordinates: 41.2151°N 4.5255°W