Chevrolet Chevy II / Nova. Made in 1967
The Chevrolet Chevy II/Nova is a small automobile manufactured by Chevrolet, and produced in five generations for the 1962 through 1979, and 1985 through 1988 model years. Nova was the top model in the Chevy II lineup through 1968.
The Chevy II nameplate was dropped after 1968, with Nova becoming the nameplate for all of the 1969 through 1979 models. Built on the X-body platform, the Nova was replaced by the 1980 Chevrolet Citation introduced in the spring of 1979. The Nova nameplate returned in 1985, produced through 1988 as a S-car based, NUMMI manufactured, subcompact based on the front wheel drive, Japan home-based Toyota Sprinter.
Second generation (1966–1967)
1966 Chevy IIs introduced an extensive sharp-edged restyle based in part on the Super Nova concept car. In general, proportions were squared up but dimensions and features changed little. Highlights included a bold grille and semi-fastback roofline. "Humped" fenders in an angular rear end were reminiscent of larger 1966 Chevrolets, though the 1966 Chevy II and Nova had vertical taillights and single headlights. The lineup again started with Chevy II 100 and Chevy II Nova 400 models.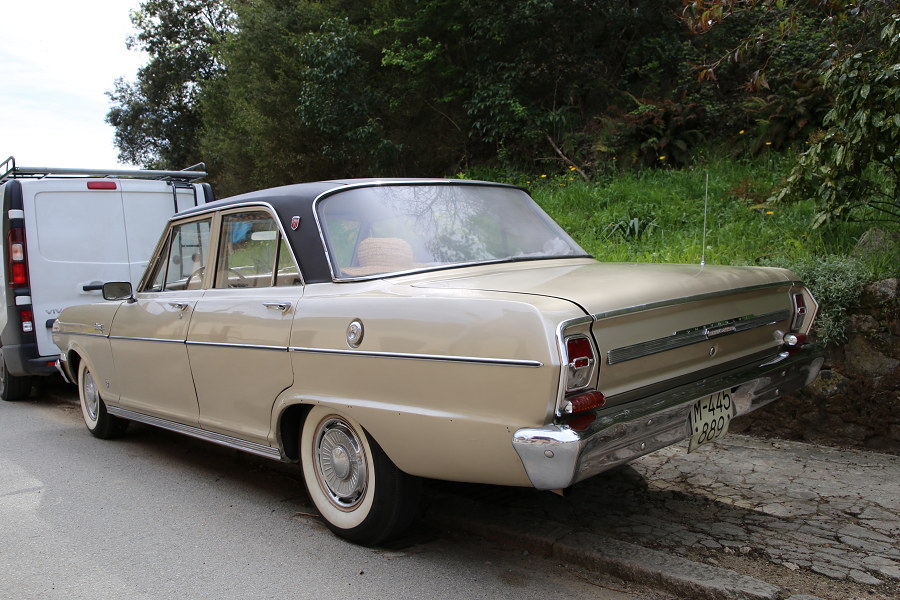 The 90 hp (67 kW) 153 cu in (2.51 L) inline-four engine was only offered in the base Chevy II 100 series models. Buyers could also order a 194 cu in (3.18 L) inline-six engine (std. in the SS), a 230 cu in (3.8 L) inline-six, a 195 hp (145 kW) or 220 hp (160 kW) 283 cu in (4.64 L) V-8, a 275 hp (205 kW) 327 cu in (5.36 L) V-8 and the top engine, a new Turbo-Fire 327 cu in (5.36 L) V-8 delivering 350 hp (260 kW).
This engine was first seen in the Chevelle. This engine with the close-ratio four-speed manual transmission turned the normally mild Nova into a proper muscle car; The Powerglide automatic was not available with the 350 hp engine.