Châtillon-sur-Chalaronne is a commune in the Ain department in eastern France. The city is located about 50 minutes by car from Lyon. The town was formerly named Châtillon-les-Dombes.
Tourism and main attractions
The old castle
Built by the lords of Châtillon around the year 1000, it saw the birth of Saint Etienne de Châtillon, the future Carthusian monastery.
Major rehabilitation work has made it possible to raise the four towers and to secure the site, which today offers an exceptional view when you arrive by the D 936 (Bourg-en-Bresse – Villefranche-sur-Saône).
Visitors can also relax on the lawn created inside this enclosure or attend one of the many historical shows that are given there in summer.
The old castle has been registered as a historical monument since February 22, 1927.
The market square
The market house was replaced in 1440 by cathedral-like halls: 80 m long, 20 m wide and 10 high. The three-bay building is supported by huge oak pillars on which the oak frame rests.
Partly destroyed by fire in 1670, they were reconstructed identically thanks to the generosity of Mlle de Montpensier, Comtesse de Châtillon, who authorized the inhabitants to take the necessary wood from the forest of Tanay.
Half-timbered houses
These medieval buildings, the Saint-André church and the half-timbered houses of the square as well as those of Commerson Street constituting the heart of the old town.
City hall
The seventeenth century hall building has been classified as a historical monument since 14 November 1988.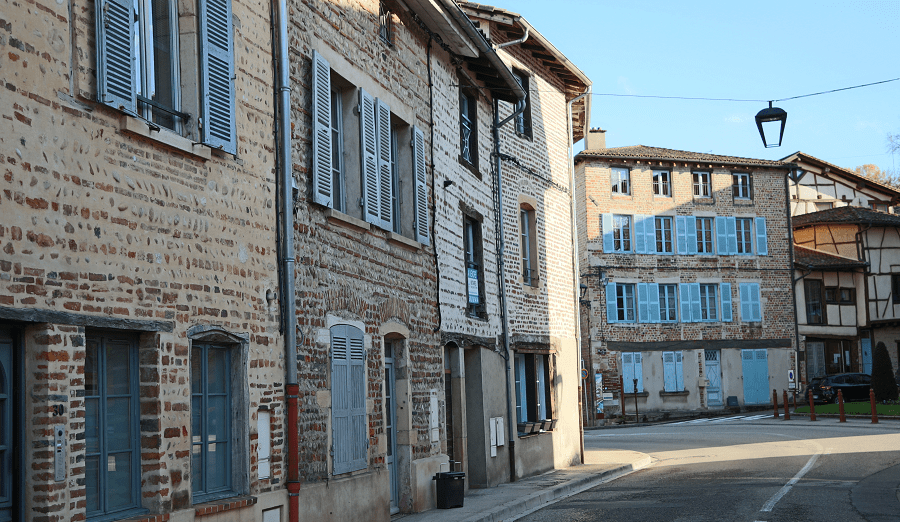 Museums
The miniature train museum presents one km of HQ scale tracks, featuring many real or imaginary sites between the Alps, Lyon and the Mediterranean. One of the most beautiful miniature shows in Europe. It stages rail and road traffic, the hundreds of scenes animated by motorways and the thousands of characters.
Tradition et Vie Museum: place of memory and transmission of traditions, knowledge, gestures and social practices of Bresse and Dombes at the beginning of the twentieth century. Through the character of Marie, a little Bressane comes relive the daily life of a rural family of the time. 5,000 ancient objects perfectly preserved and grouped according to traditional scenes, will immerse you.
Best restaurants
There is one Michelin list restaurant in the city:  La Tour,Place de la République, 27 – 79 EUR • Traditional Cuisine.
Shopping
Every Saturday morning, the market house hosts the fresh products market and serve as a refuge for outdoor events surprised by bad weather.
Transport and how to get to?
The nearest international airport is the Lyon-Saint-Exupéry airport, 60 kilometers away, or Geneva airport, 130 kilometers away.
Distances by car:
From Lyon (tolls): 52 min (52.6 km) via D66
From Biarritz (tolls): 7 hr 35 min (784 km) via A89
From Nantes (tolls): 6 hr 53 min (656 km) via A85
From Bordeaux (tolls): 5 hr 47 min (591 km) via A89
From Toulouse (tolls): 5 hr 53 min (587 km) via A9 and A7
From Monaco (tolls): 5 hr 32 min (542 km) via A8 and A7
From Marseille (tolls): 3 hr 48 min (363 km) via A7
From Andorra (tolls): 7 hr 46 min (714 km) via A9 and A7
Main information
Area: 17.8 sq. km
Population: 4 900
Languages: French
Currency: euro
Visa: Schengen
Time: Central European UTC +1
GPS coordinates: 46° 07′ 18″ N, 4° 57′ 21″ E