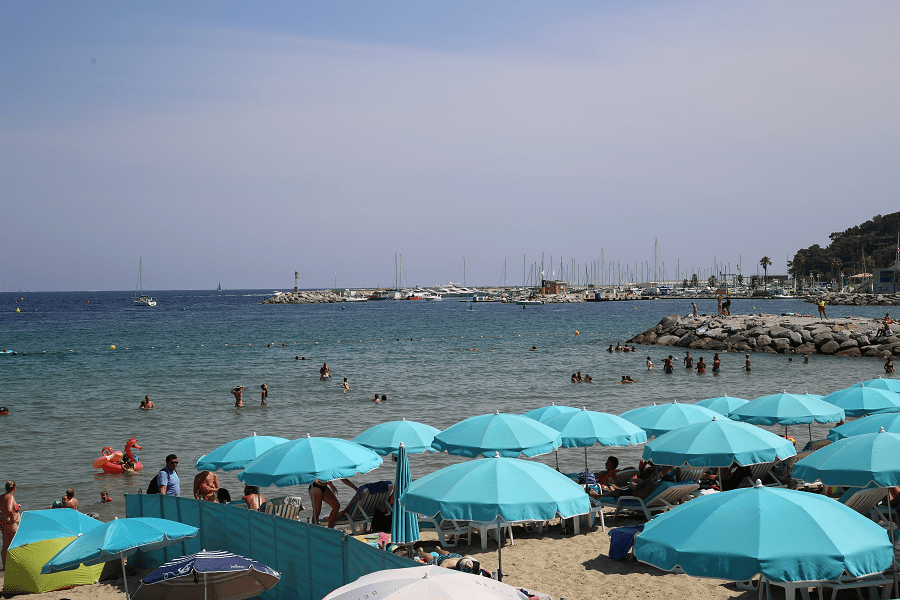 Cavalaire-sur-Mer (Fr. Cavalaire-sur-Mer) is a commune in the Var department in the Provence-Alpes-Côte d'Azur region in south-eastern France. Part of French Riviera.
The seaside location of Cavalaire on the shores of the Mediterranean encourages tourism in the area. In addition to its 4 km of fine sandy beaches, the town has a certified nautical station offering diving, sailing, jet skiing and maritime excursions. The city also benefits from the local activities of cities like Saint-Tropez, Ramatuelle or Grimaud. Tourist accommodation is varied: hotels, camping and vacation homes.
Tourism and places of interest
Church of Saint-Laurent
Roman villa of Pardigon, Roman site
Chapel of Pardigon. Formerly private funeral chapel, built in 1882 for Aimable Pardigon, former mayor of Gassin, by his widow. The chapel, which once adjoined the vast residence of the Pardigon family, is now the property of the Conservatoire du Littoral
The Pointus du Port, still in operation, typical Provencal fishing boats, including the Tramontane, bought by the municipality in 1992
The fountain in the rue du Port
Maison Foncin and its Mediterranean garden, owned by Pierre Foncin and bequeathed by his daughters to the Conservatoire du littoral
House known as Villa My plai
Underwater heritage: a dozen wrecks are located in the bay of Cavalaire
Oppidum de Montjean: from the Ligurian period
Inter-municipal cemetery of Cavalaire-sur-Mer and La Croix-Valmer
Beaches
Plage de Bonporteau, Plage du Centre-ville, Plage du Débarquement, Plage des Amphores. All sandy beaches are good for kids.
Restaurants
Best restaurants are located in the seafront area.
Shopping
Shopping in Cavalaire-sur-Mer is not a priority on the tourist program. Best shopping can be found in the nearest Saint-Tropez city.
Transport and how to get to?
Cavalaire-sur-Mer has no airport or railway station. The city can be found only by car.
The nearest airports:
Toulon-Hyères Airport (Closest airport),
Marseille Provence Airport,
Nice-Côte d'Azur Airport.
Shortest distance by car:
From Menton (tolls): 2 h 8 min (148 km) via A8
From Monaco (tolls):  2 h 4 min (140 km) via A8
From Beaulieu-sur-Mer (tolls): 2 h 6 min (126 km) via A8
From Villefranche-sur-Mer (tolls): 2 h 3 min (124 km) via A8
From Nice (tolls): 1 h 46 min (117 km) via A8
From Cagnes-sur-Mer (tolls): 1 h 34 min (106 km) via A8
From Antibes (tolls): 1 h 39 min (103 km) via A8
From Cannes (tolls): 1 h 32 min (90.6 km) via A8
From Mandelieu-La Napoule (tolls): 1 h 13 min (81.3 km) via A8
From Fréjus: 1 h (43.2 km) via D8 and D559
From Saint-Raphaël: 1 h 5 min (43.6 km) via D559
From Sainte-Maxime: 31 min (21.4 km) via D559
From Saint-Tropez: 27 min (18.1 km) via D559
From Toulon: 1 h 7 min (59.4 km) via D98 and D559
From Aix-en-Provence (tolls): 1 h 50 min (126 km) via A8
From Nîmes (tolls): 2 h 54 min (231 km) via A8
From Marseille (tolls): 1 h 55 min (126 km) via A50
From Avignon (tolls): 2 h 34 min (211 km) via A7 and A8
From Montpellier (tolls): 3 h 21 min (277 km) via A8

From Sète (tolls): 3 h 28 min (305 km) via A8
From Agde (tolls): 3 h 43 min (330 km) via A9 and A8
From Pézenas (tolls): 3 h 45 min (332 km) via A9 and A8
From Béziers (tolls): 3 h 52 min (342 km) via A9 and A8

From Perpignan (tolls): 4 h 33 min (425 km) via A9
From Argelès-sur-Mer (tolls): 4 h 49 min (453 km) via A9
From Collioure (tolls): 4 h 55 min (460 km) via A9
From Narbonne (tolls): 4 h 1 min (365 km) via A9 and A8
From La Baule-Escoublac (tolls): 10 h 58 min (1,169 km) via A7
From Saint-Nazaire (tolls): 10 h 54 min (1,155 km) via A7
From Nantes (tolls): 10 h 17 min (1,101 km) via A7
From Saumur (tolls): 9 h 3 min (964 km) via A7
From Les Sables-d'Olonne (tolls): 10 h 19 min (1,082 km) via A62
From Cognac (tolls): 8 h 30 min (869 km) via A62
From Angoulême (tolls): 8 h 25 min (867 km) via A62
From Eauze (tolls): 6 h 48 min (641 km) via A9
From La Rochelle (tolls): 8 h 55 min (931 km) via A62
From Rochefort (tolls): 8 h 34 min (903 km) via A62
From Saintes (tolls): 8 h 16 min (867 km) via A62
From Arcachon (tolls): 7 h 49 min (805 km) via A62
From Royan (tolls): 8 h 38 min (871 km) via A62
From Biarritz (tolls): 7 h 52 min (813 km) via A64
From Saint-Jean-de-Luz (tolls): 7 h 56 min (819 km) via A64
From Bayonne (tolls): 7 h 44 min (801 km) via A64
From Dax (tolls): 7 h 44 min (780 km) via A64
From Lourdes (tolls): 6 h 44 min (679 km) via A64
From Pau (tolls): 6 h 58 min (697 km) via A64
From Périgueux (tolls): 7 h 39 min (787 km) via A20
From Bordeaux (tolls): 7 h 21 min (753 km) via A62
From Toulouse (tolls): 5 h 18 min (511 km) via A61 and A9
From Carcassonne (tolls): 4 h 29 min (421 km) via A9
From Andorra (tolls): 6 h 58 min (601 km) via A9
Main information
Area: 16.8 sq. km
Population: 7 400
Languages: French
Currency: euro
Visa: Schengen
Time: Central European UTC +1
Coordinates: 43°10′19″N 6°31′47″E
See here best sea and ocean resorts of France and Spain (223 objects)