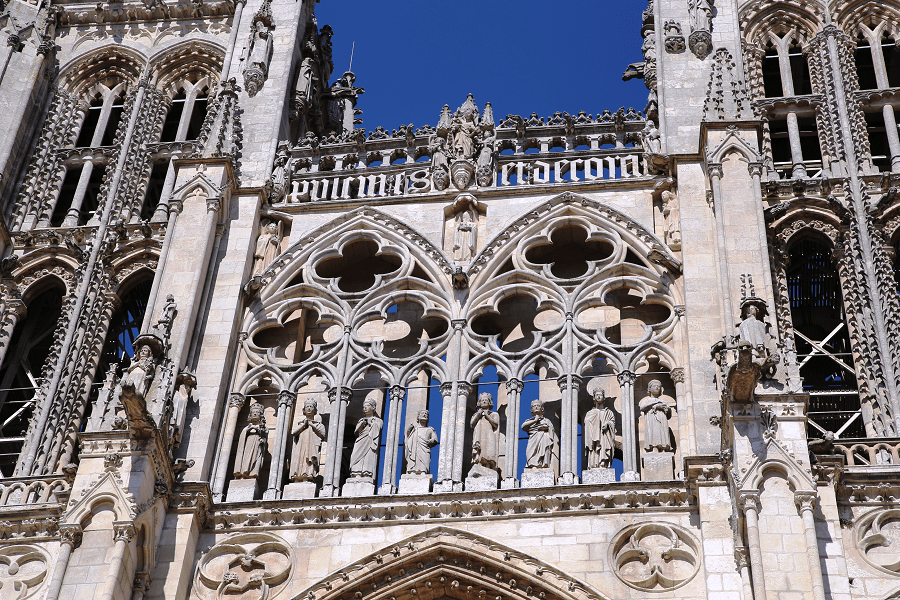 The Cathedral of Saint Mary of Burgos is a Catholic church dedicated to the Virgin Mary located in the historical center of the city of Burgos, Castile and León, Spain. Its official name is Santa Iglesia Catedral Basílica Metropolitana de Santa María de Burgos.
Its construction began in 1221, in the style of French Gothic architecture and is based on a Latin Cross. After a hiatus of almost 200 years, it went through major embellishments of great splendor in the 15th and 16th centuries: the spires of the main facade, the capilla del Condestable, 'Chapel of the Constable' and dome of the transept. These are elements of the flamboyant Gothic which gives the cathedral its unmistakable profile. The last works of importance (the Sacristy or the Chapel of Saint Thecla) were performed in the 18th century, during which the Gothic portals of the main facade were also modified.
The style of the cathedral is the Gothic, although it has several decorative Renaissance and Baroque elements as well. The construction and renovations were made with limestone extracted from the quarries of the nearby town of Hontoria de la Cantera.
Numerous architectural, sculptural and pictorial treasures are inside. They stand out from them:
The Gothic-Plateresque dome, first raised by Juan de Colonia in the fifteenth century and rebuilt by Juan de Vallejo in the sixteenth, following plans by Juan de Langres.
The Capilla del Condestable, Elizabethan Gothic style, in which the Colonia family, Diego de Siloé and Felipe Vigarny worked.
The Hispano-Flemish Gothic altarpiece by Gil de Siloé for the Chapel of Santa Ana.
The large painting on panel The Holy Family by Sebastiano del Piombo.
The choir stalls.
The late Gothic reliefs of the ambulatory, by Vigarny.
The many Gothic and Renaissance tombs.
The Renaissance Golden Staircase, by Diego de Siloé.
The Holy Christ of Burgos, image of great devotional tradition.
The tomb of El Cid Campeador and his wife Doña Jimena, his deposit letter and his chest.
The Flycatcher, an articulated statue that opens its mouth when it chimes the hours.
The cathedral was declared a World Heritage Site by UNESCO on October 31, 1984. It is the only Spanish cathedral that has this distinction independently, without being joined to the historic center of a city (as in Salamanca, Santiago de Compostela, Ávila, Córdoba, Toledo, Alcalá de Henares or Cuenca) or in union with other buildings, as in Seville.
How to get to?
Address: Plaza de Santa María, s/n, 09003 Burgos
Valladolid 1 hr 29 min (129 km) via A-62
Madrid 2 hr 35 min (249 km) via A-1
Working hours
Tuesday 8:30AM–12PM, 6:30–8PM
Wednesday 8:30AM–12PM, 6:30–8PM
Thursday 8:30AM–12PM, 6:30–8PM
Friday 8:30AM–12PM, 6:30–8PM
Saturday 8:30AM–12PM, 6:30–8PM
Sunday 8:30AM–1PM, 6:30–8:30PM
Monday 8:30AM–12PM, 6:30–8PM