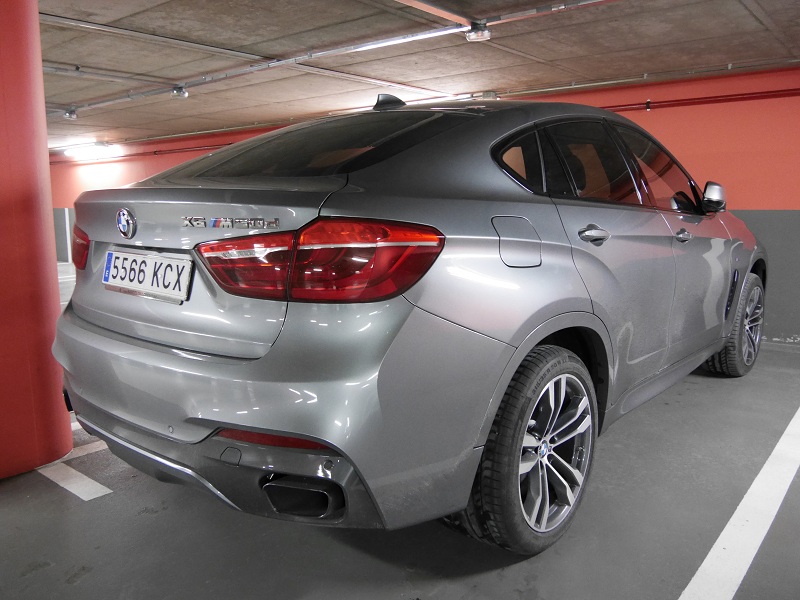 BMW X6 M50 D: grey SUV with 381 HP
The BMW X6 is a mid-size luxury crossover SUV by German automaker BMW. The BMW X6 is the originator of the sports activity coupé (SAC), referencing its sloping rear roof design. It combines the attributes of an SUV (high ground clearance, all-wheel drive and all-weather ability, large wheels and tires) with the stance of a coupé (styling featuring a sloping roof). It is built in BMW's North American plant in Greer, South Carolina alongside the BMW X5, whose platform it shares. Prior to the release of the X7, the X6 was considered a flagship SUV for BMW.
Second generation (F16; 2015)
The second generation X6 was launched at the 2014 Paris Motor Show featuring a new eight-speed automatic transmission and a slightly larger luggage bay. Sales in most markets commenced by the end of 2014.
Like the other models in the BMW range powered by the twin-turbo 4.4-litre V-8, the xDrive50i benefits from increased the power of a newer engine, which is 50 hp (37 kW) and 30 lb⋅ft (41 N⋅m) more than its predecessor rising to 445 hp (332 kW) at 5500 rpm and 480 lb⋅ft (651 N⋅m) of torque at 2000 rpm.
The X6 M (F86) BMW M performance model was unveiled in Losail International Circuit in Qatar, and is one of the quickest vehicles of its type.
M Performance Parts can be fitted to 25-50 models with the M Sport trim. These include a sport steering wheel, carbon fibre trim, aluminium pedals, black kidney grilles, M Rims, mirrors, rear flaps, diffuser, splitter, spoiler in carbon fibre, black side skirts and sport brakes. 30d and 35i models can get a power boost kit increasing power and torque to 277 hp (207 kW) and 584 N⋅m (431 lbf⋅ft) on the 30d and to 326 hp (243 kW) and 450 N⋅m (332 lbf⋅ft) on the 35i.
Full M models have their own M Performance Parts. These include black kidney grilles, a carbon fibre gear selector, a sport steering wheel, carbon fibre mirrors, black side vents, carbon fibre trim and fuel filler cap.
Standard trim BMW X6 F16 models get softer and more comfortable suspension and tire setup with a more executive design and the addition of optional side steps.