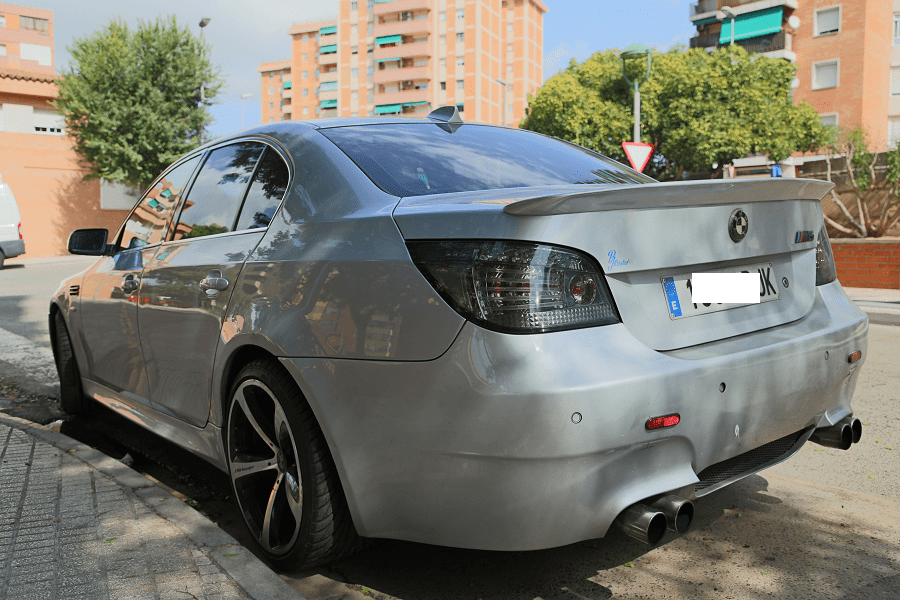 BMW M5. E 60 grey version from Tarragona (Spain)
E60/E61 M5 (2004–2010)
The E60 M5 was introduced in 2004, with a V10 engine and 7-speed paddle-shift SMG (Sequential Manual Gearbox) transmission linking the car with the BMW Sauber Formula One program. The E60 M5 was the world's first production sedan to use a V10 gasoline engine. This generation of the M5 was also built in the E61 Touring (wagon) body style, which was only sold in Europe. The E63/E64 M6 coupé and convertible are based on a shortened version of the M5 chassis and largely use the same mechanical components.
The official 0 to 100 km/h (62 mph) acceleration figure is 4.7 seconds for the sedan, however magazine tests have recorded figures down to 4.1 seconds. The E60 M5 was the fastest 4-door sedan available at the time of its introduction; top speed is electronically restricted to 250 km/h (155 mph) but could be raised to 305 km/h (190 mph) with the optional M-driver's package. Unrestricted top speed of 205 mph. The M5 has recorded a Nürburgring lap time of 8:13.
Upgrades over regular 5 Series models include a wider track, unique body panels, a colourful heads up display featuring navigation, control messages, speed, rpm and gear selection information, automated seat side bolsters, heated/ventilated seats and power rear curtain. The larger, flared front guards on either side also featured cooling vents, reminiscent of the 1970s BMW CSL. The wheels were of 19-inch diameter and the car has quad exhaust pipes at the rear.
During its five-year production run, 20,589 units were built: 19,564 sedans and 1,025 Touring. The biggest market was the United States with 8,800 cars (sedans only), followed by Great Britain and Ireland with 1,776 cars and Germany with 1,647 cars.
The M5 model was designed by Karl John Elmitt and produced at the BMW Plant Dingolfing in Germany. The E60 M5 did not offer safety features such as automatic radar braking or lane departure warning, which was offered on the E60 5 Series that were not on the M5.