Blue Volkswagen Golf R from 2018.
Like the GTI, the Golf R is also built as a three- or five-door hatchback. It is powered by a newly developed version of the 1,984 cc (2.0 L; 121.1 cu in) turbocharged EA888 petrol FSI inline-four engine used in the latest Golf GTI, Audi S3, Volkswagen Tiguan and Jetta, and dozens of other Volkwagon AG vehicles, but in this application producing 300 PS (221 kW; 296 hp) (or 280 PS (206 kW; 276 hp) for "hot climate" markets such as Australia, South Africa, Japan, and the US) from 5,500 to 6,200 rpm and 380 N⋅m (280 lb⋅ft) from 1,800 to 5,500 rpm of torque.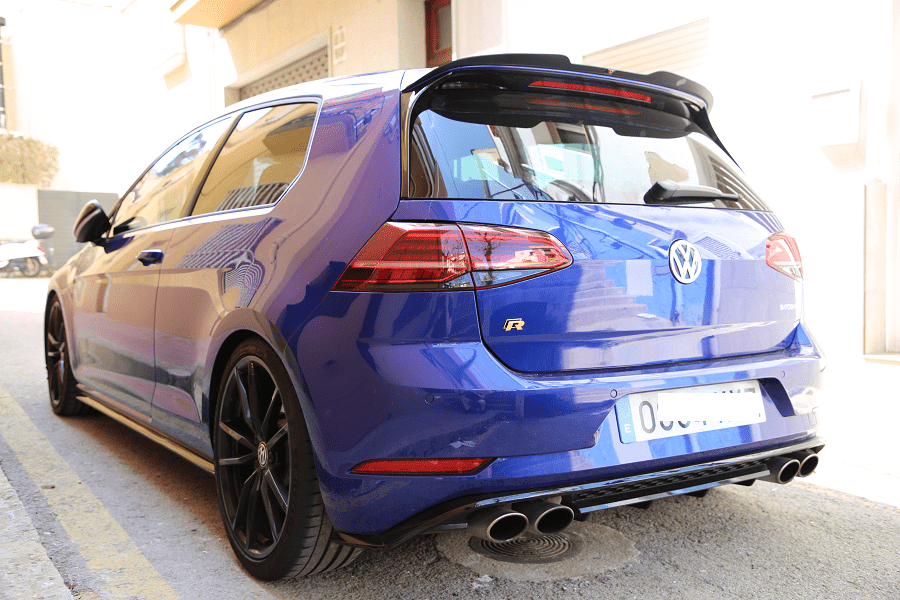 Compared to the GTI's powerplant, the Golf R's engine has a modified cylinder head, exhaust valves, valve seats and springs, pistons, injection valves and larger intercooler and turbocharger. DSG equipped models also come with an auxiliary oil cooler on the passenger side on right hand drive models.
0-62 mph (100 km/h) takes 5.1 seconds (versus 5.7 seconds for previous Golf R), or 4.9 seconds with optional DSG gearbox. The top speed is electronically limited to 155 mph (249 km/h). Despite this increased performance, a combined fuel consumption of 39.8 miles per imperial gallon (7.10 L/100 km; 33.1 mpg‑US), and CO2 emissions of 165 g/km (159 g/km DSG) make the Golf R up to 18 percent more efficient than its predecessor.