Blue cabriolet by Nash-Healey from 1952. V6, 140 HP, max. speed 130 km/h in Monaco
The Nash-Healey is a three-seat luxury sports car or grand tourer produced from 1951 to 1954. It was marketed by the Nash-Kelvinator conglomerate in North America as a halo car to promote sales of its Nash Motors division.
The car was the result of a joint venture between Nash-Kelvinator and British automaker, the Donald Healey Motor Company.
Nash supplied the drivetrain from their range-topping Ambassador model, and Healey provided the chassis and early bodies.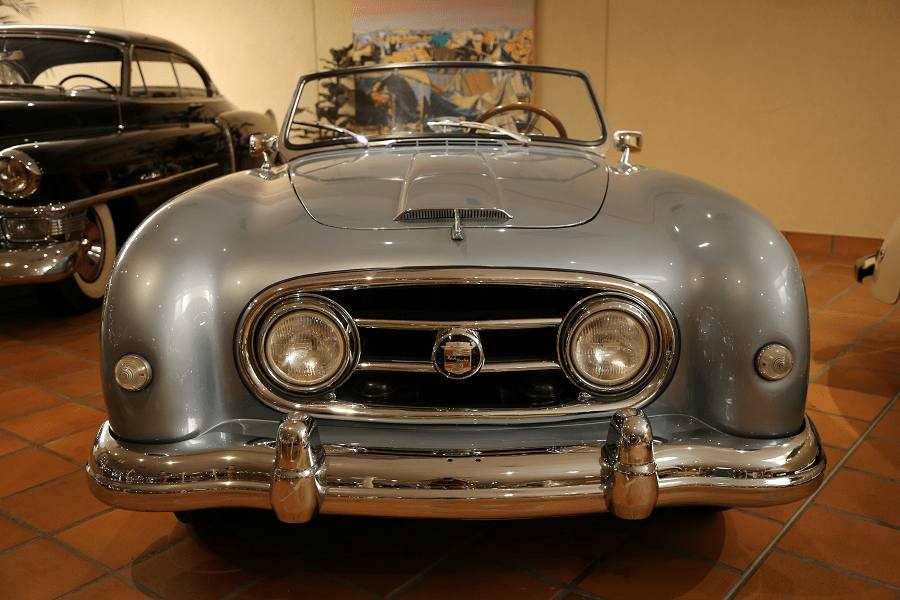 One year after its introduction, the car was restyled by Pininfarina, and final assembly was transferred to Italy.
The Nash-Healey is described by some as the first sports car introduced in the U.S. by a major automaker after the Great Depression.
Various Nash-Healeys, some modified road cars and some purpose-built racers, competed in several endurance racing events, most notably posting a third-place finish at the 1952 24 Hours of Le Mans.
Manufacturer: Nash Motors
Also called Series 25
Production: December 1950 – August 1954
Model years: 1951–1954
Assembly:  Warwick, England; Turin, Italy; Kenosha, Wisconsin, US
Designer: Len Hodges (1951), Adriano Rabbone at Pininfarina (1952–1954)
Engine: Nash Dual Jetfire OHV I6
1951-52: 234.8 cu in (3.8 L) 125 hp (93 kW; 127 PS)
Nash Le Mans Dual Jetfire OHV I6
1952–54: 252 cu in (4.1 L) 140 hp (104 kW; 142 PS)
Transmission 3-speed manual with overdrive