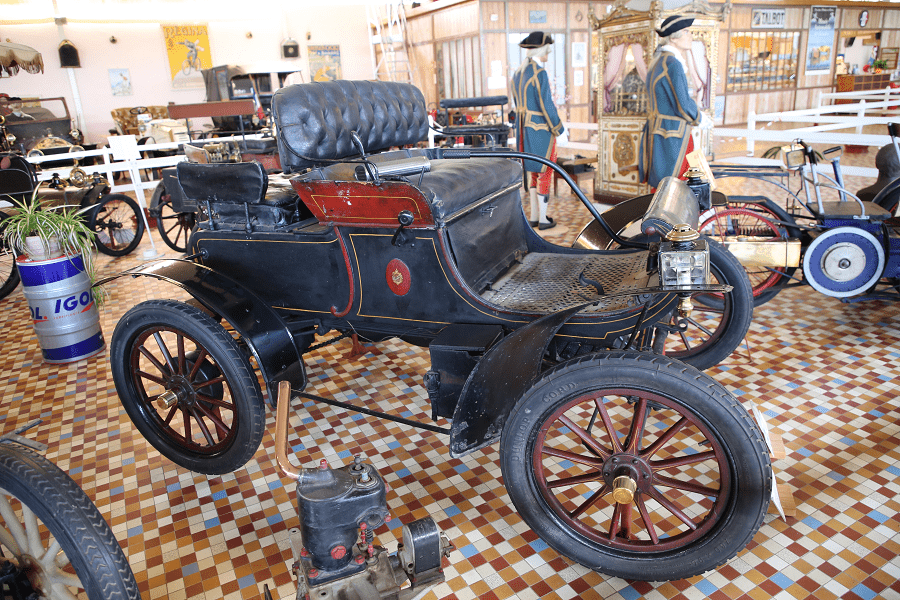 Black Oldsmobile Curved Dash from 1900 with one cylinder (1564 cc). Max. speed: 30 km/h. Made in USA
The gasoline-powered Oldsmobile Model R, also known as the Curved Dash Oldsmobile, is credited as being the first mass-produced automobile, meaning that it was built on an assembly line using interchangeable parts.
It was introduced by the Oldsmobile company in 1901 and produced through 1903; 425 were produced the first year, 2,500 in 1902, and over 19,000 were built in all.
When General Motors assumed operations from Ransom E. Olds on November 12, 1908, GM introduced the Oldsmobile Model 20, which was the 1908 Buick Model 10 with a stretched wheelbase and minor exterior changes.
The flat-mounted, water-cooled, single-cylinder engine, situated at the center of the car, produced 5 hp (3.7 kW), relying on a brass gravity feed carburetor.
The transmission was a semiautomatic design with two forward speeds and one reverse. The low-speed forward and reverse gear system is a planetary type (epicyclic). The car weighed 850 lb (390 kg) and used Concord springs.
It had a top speed of 20 mph (32 km/h).