Black Mercedes-Benz Coupe Type 300SC from 1956, six cylinders, 2996 cc, 175 HP, 180 km/h
The 300 Sc (W188) appeared in 1955, featuring upgrades to both its engine and suspension. Following the high-performance 300SL Gullwing's lead a year earlier, the Sc's inline-six received a version of its mechanical direct fuel-injection, which delivered a significantly detuned 175 PS (129 kW; 173 hp) at 5400 rpm. Mercedes-Benz's "low-pivot" independent suspension was fitted in the rear. Only a pair of chrome strips on either side of the hood visually distinguished it from its precursor.
Prices rose to DM 36,500, and 98 Coupés, 49 Cabriolet As, and 53 Roadsters were built through April 1958.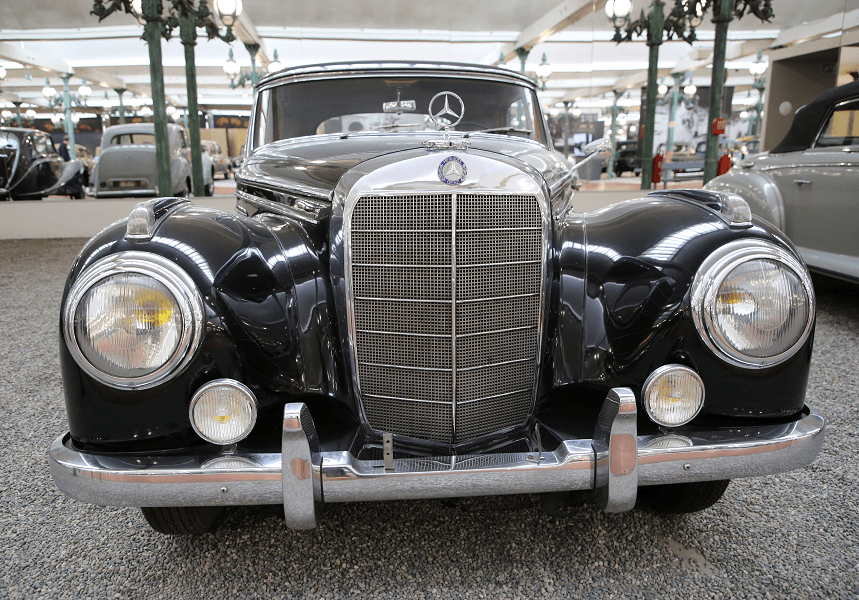 The Mercedes-Benz W188 was a two-door luxury sports tourer produced by Mercedes-Benz between 1951 and 1958. The company's most expensive and exclusive automobiles, the elegant, hand-built 300 S (1951-1954) and its successor 300 Sc (1955-1958) were the pinnacle of the Mercedes line of their era.
The pair's conservative styling belied their technological advances, sharing numerous design innovations and mechanical components with the iconic Mercedes-Benz 300 SL "Gullwing", including engine, suspension, and chassis.
From July 1952 to August 1955, a total of 216 Coupés, 203 Cabriolet As, and 141 Roadsters were produced.