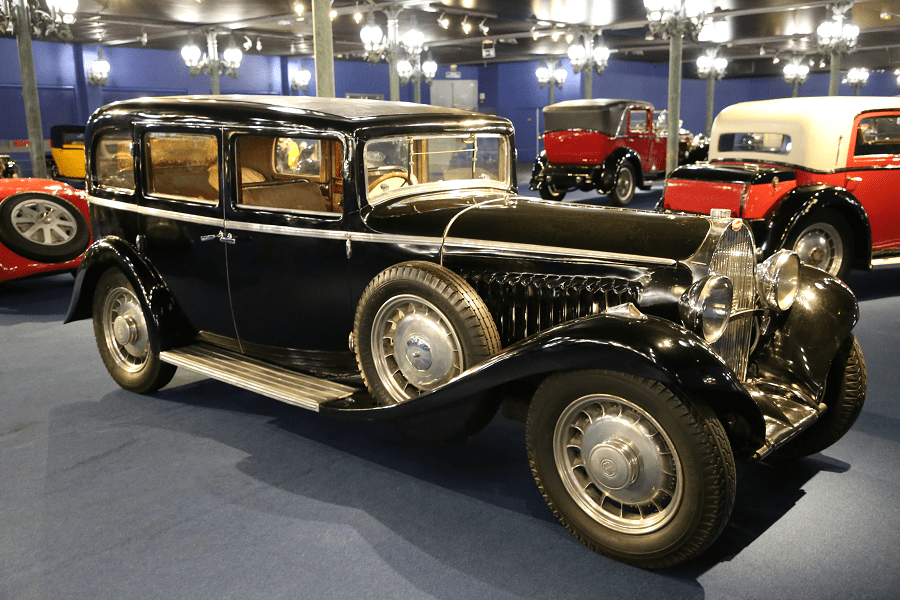 Black Bugatti Limousine Type 49 from 1934, eight cylinders, 3257 cc, 90 HP, 150 km/h. This saloon car, bodied by Gangloff, and described as a Six-Seater with two fold-down seats, was one of the last cars of the this type to be assembled.
Gangloff is a Swiss/French coachbuilding company currently based in Bern since 1928, which focusses on coachworks for trucks, public transport vehicles and funicular railway.
Type 49
The Bugatti Type 49 was an improved Type 44 with a slightly bigger engine with double ignition and a cooling fan. Aluminium wheels were optional. A large proportion was originally supplied with enclosed bodywork but few remain in this form today as many have been re-bodied in a more sporting form. Produced from 1930 through 1934, about 470 examples were built. The Type 49 was the last of the early 8-cylinder single cam Bugatti line which began with the Type 30, though its gearbox would later be reused on the Type 55.
The Type 49 featured a straight-8 engine of 3.3 L (3257 cc/198 in³) displacement. Bore and stroke were 72 mm by 100 mm and three valves per cylinder were used with a single overhead camshaft.