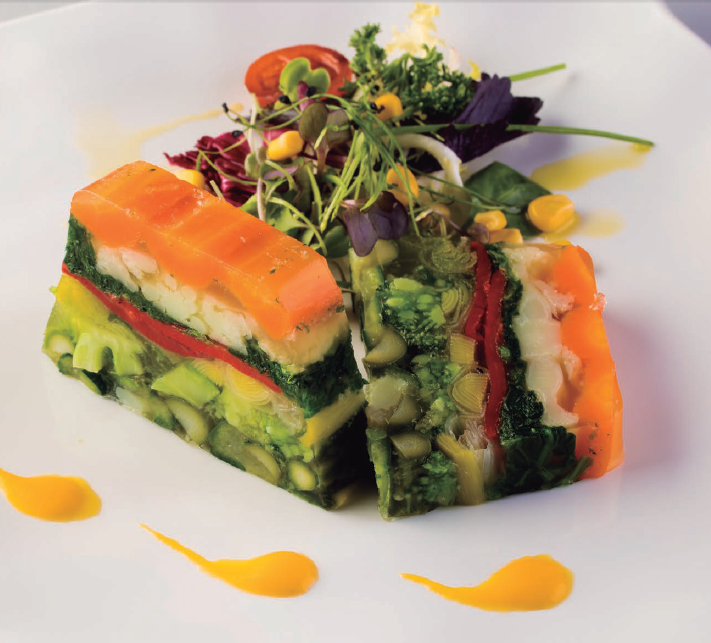 Ingredients:
2 medium carrots
1 leek
300g of broccoli
400g of slim green beans
300g of cauliflower
500g of spinach
12 gelatine leaves (isinglass)
A little saffron, olive oil, apple cider vinegar, salt and white pepper
Seasonal salad mix, cherry tomatoes, fresh sprouts and sweetcorn
Preparation:
Clean, peel and chop the vegetables. Cook them, in batches, that is, in the same saucepan with the same salted boiling water, but, since each vegetable has its cooking time, cook each vegetable separately until "al dente" (approx. 6-10 minutes depending on the veg). Each time you take the vegetables out, cool immediately with ice-cold water to keep all the nutrients in and to stop oxidation. Dry and set aside.
Reduce the water from vegetables a little to get a good vegetable stock, add a little saffron to give it some color and the gelatin leaves (previously soaked in cold water and melted, according to package instructions), season with salt and let it cool outside the fridge.
Method
Assembling your terrine: cover your loaf tin with cling film and layer it with the gelatin broth alternated with vegetables, that is each vegetable create its own layer separated with a layer of the broth, be creative with the colors, when you reach the top cover it with cling film and let it firm up in the fridge for at least 12h.
Mix the salad mix with the tomatoes and sweetcorn, season with olive oil, apple cider vinegar, salt and pepper.
Presentation:
Place 2 slices of the vegetable terrine in the middle of a plate, accompanied by a salad bouquet and decorated with fresh sprouts.
Alternatives:
Filling the terrine with "mi-cuit" foie gives it yet finer touch. Or fill it with light Roquefort sauce, using any seasonal vegetables, select color combinations carefully for a pleasing visual effect.
NUTRITIONAL NOTE:
Steamed vegetables have better nutritional properties, instead of gelatin you could also use agar-agar, which is a seaweed that has the same properties and provides vegetable protein. The 2 main ingredients of this dish, broccoli and cauliflower, belong to the cruciferous group, which are vegetables that are particularly interesting for their sulfur content, which plays a leading role in the prevention of cancer-related diseases.