T-34: Soviet medium tank
The medium tank T-34 developed in 1939 by the Design Bureau No. 183 (Kharkov) under the leadership of M. Koshkin, A. Morozov and N. Kucherenko on the basis of the A-20 and A-32 experimental tanks.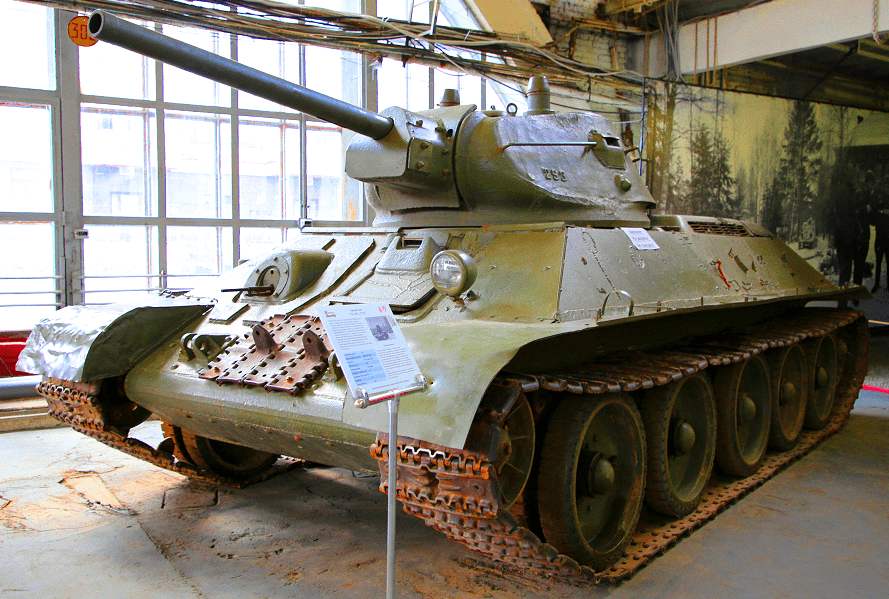 The T-34 – on the service of the Red Army on December 19, 1939, even before the tests began. The T-34 was the mainstay of Soviet armoured forces throughout the Second World War.
Its design allowed it to be continuously refined to meet the constantly evolving needs of the Eastern Front: as the war went on it became more capable, but also quicker and cheaper to produce.
Made in the USSR in 1941
Engine: V-2 with 12 cylinders
Crew: 4 persons
Armor: 13-52 mm
Power: 500 HP (368 kW)
Speed: 55 km / h
Range: 250 km
Weight: 30 t
Armament: F-34 gun (76 mm), machine gun DT (7.62 mm)
Ammunition: 77 shots for a cannon, 3150 cartridges for a machine gun