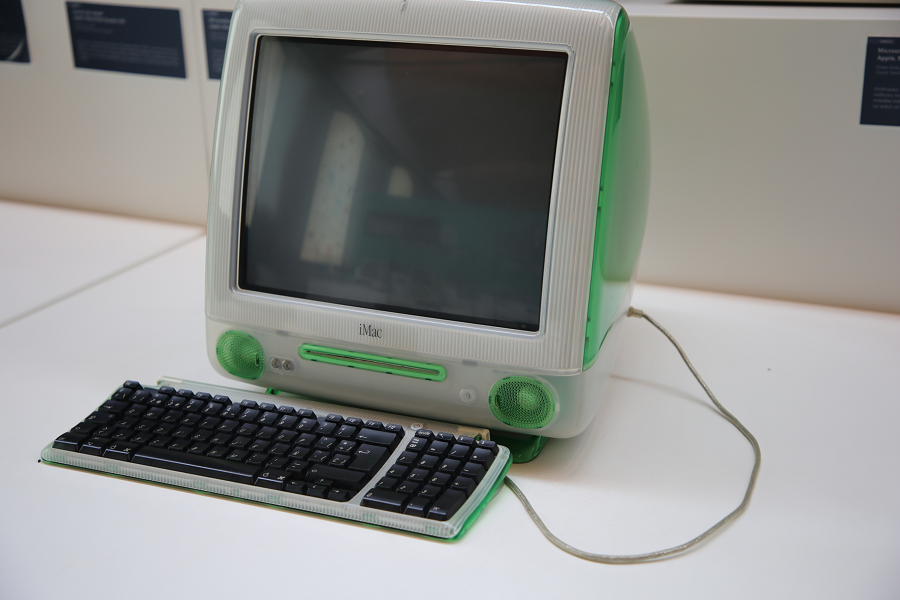 Apple iMac G3.
The iMac G3, which was originally released as the iMac, is a series of Macintosh personal computers Apple Computer sold from 1998 to 2003. The first iMac was Apple's first major product release under its CEO and co-founder Steve Jobs, who returned to the financially troubled company in 1996 after eleven years away. Jobs reorganized the company and simplified the product line; the iMac was designed as Apple's new consumer desktop product, an inexpensive, consumer-oriented computer that would easily connect to the Internet.
The iMac's all-in-one design is based around a cathode ray tube (CRT) display; it was fitted with a G3 processor, components, and connectivity included in a single enclosure. For the iMac G3, Apple's head of design Jony Ive and his team developed a teardrop-shaped, translucent, plastic case that was a radical departure from the look of the company's previous personal computers. The company developed new working methods to quickly finish the computer, and created new workflows they used for designing future products. The iMac G3 eschewed legacy technologies like serial ports and floppy disk drives in favor of CD-ROMs and USB ports.
Critical response to the iMac was mixed; journalists said the machine would be good for new users but bemoaned the lack of legacy technology, and said the mouse and keyboard were uncomfortable. The iMac was an immediate commercial success, selling more than 5 million units in its lifetime and becoming Apple's fastest-selling computer.
The original model was revised several times, improving the processor speed, the amount of random access memory (RAM), hard drive space, and other capabilities. The iMac is credited with saving Apple from financial ruin, and for turning computers from niche, technical products to mass-consumer fashion. Other computers and consumer products appropriated the translucent plastic look, leading to legal action from Apple. The G3-based series of iMac models was replaced by a G4-powered successor, and the iMac G3's role in education markets was replaced by the eMac.