Alfa Romeo Giulia Quadrifoglio: 2.9-liter twin-turbo V6 | 505 horsepower. White version
The Alfa Romeo Giulia is a compact executive car produced by the Italian manufacturer Alfa Romeo. Known internally as the Type 952, it was unveiled in June 2015, with market launch scheduled for February 2016, and it is the first saloon offered by Alfa Romeo after the production of the 159 ended in 2011.
The Giulia is also the first mass-market Alfa Romeo vehicle in over two decades to use a longitudinal rear-wheel drive platform, since the 75 which was discontinued in 1992. The Giulia was second in 2017 European Car of the Year voting and was named Motor Trend Car of the Year for 2018. In 2018, Giulia was awarded the Compasso d'Oro industrial design award.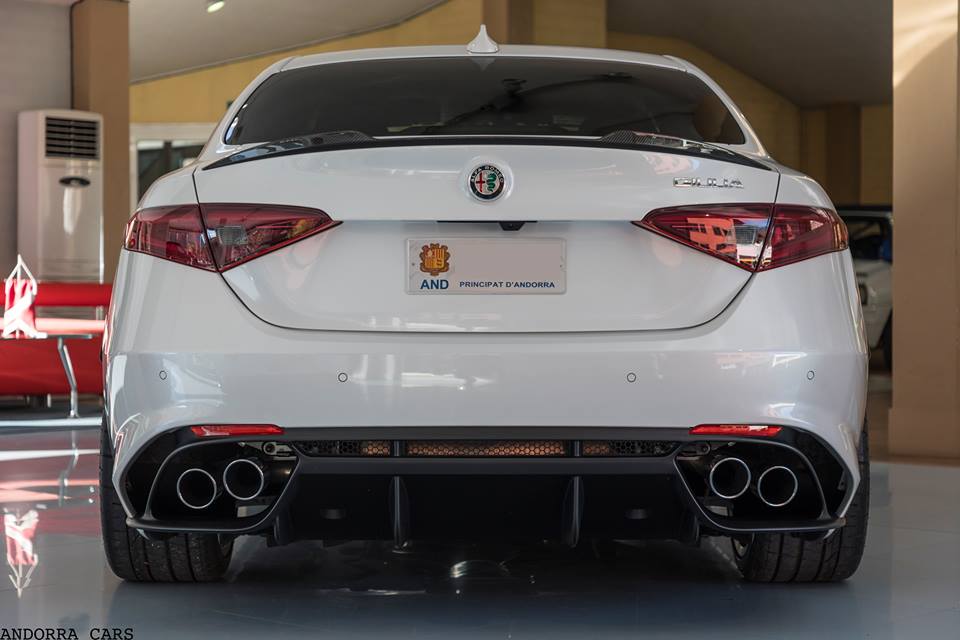 The top-of-the-line Giulia Quadrifoglio (Italian for "four-leaf clover") was the first model in the new Giulia range. It was unveiled at Italy in June 2015. It made its official international debut at the 2015 Frankfurt Motor Show.
The Quadrifoglio's main competitors are cars such as the Mercedes-AMG C63, BMW M3 and the Cadillac ATS-V.
The Quadrifoglio is powered by an all-aluminium alloy, twin-turbocharged gasoline direct injection 90° V6 engine, with a single-cylinder displacement of just under half a litre, for a total of 2,891 cc (176.4 cu in; 2.9 L).
This engine was developed exclusively for the Quadrifoglio by Ferrari technicians and is related to Ferrari's own twin-turbocharged F154 CB V8 engine, sharing the California T's bore x stroke of 86.5 mm × 82 mm (3.41 in × 3.23 in).
The engine has a maximum power output of 510 PS (375 kW; 503 hp) at 6,500 rpm, and 600 N⋅m (443 lb⋅ft) of torque between 2,500 and 5,000 rpm.
The turbochargers are single-scroll compressor IHI units integrated into the manifold, with water-charge air coolers.
It has side-mounted direct fuel injection and the peak turbo boost reaches up to 35 psi (2.4 bar) absolute pressure.
With the inclusion of cylinder deactivation (that can switch off a bank of three cylinders), this model achieves a fuel consumption of 8.5 litres per 100 kilometres (33 mpg‑imp; 28 mpg‑US) and CO2 emissions of 198 g/km, in the combined cycle.
The Quadrifoglio weighs 1,734 kg (3,822 lb) and has a power-to-weight ratio of 3 kg (6.6 lb)/PS. This is achieved courtesy of the Quadrifoglio sharing the other models' composite and light alloy construction, as well as featuring a roof and bonnet made of carbon fibre.