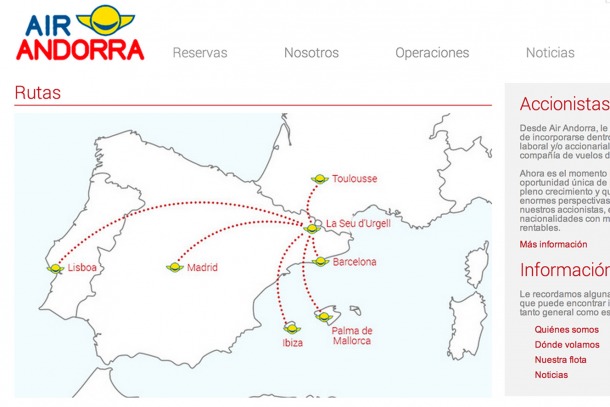 European Association of Regional Airlines (ERA) welcomes AndAir (Air Andorra) among its members, reports an official statement of ERA. AndAir became the 50th member of ERA from the moment the organization was established. The newsletter also notes that all airlines – the members of the organization, bring significant contribution to the economic growth and development of joint Europe.
Air Andorra was launched 2 years ago by the group of aviation specialists and entrepreneurs, experienced in cargo aircraft, passenger and business aviation in such countries as Spain, Brazil, Panama and Colombia.
The press-release also cites the Managing Director of Air Andorra Rafael Calabria that considers that establishment of stable and friendly relations with European aviation infrastructure, the professionalism of European specialists and regulatory authorities made the basis for AndAir to become the member of the organization. "Being a new regional airline, we are glad to join ERA. We consider that it is a unique ambience where we can establish contact and organize productive meetings with airplane producers and the representatives of other regional airlines. For our company the membership in the Association can be compared to the membership in an elite-club , where we can develop stable business relations in  with senior and more experienced specialists", claimed Rafael Calabria.
The General Director of ERA Simon McNamara in his turn also mentioned that "the membership of AndAir is a positive news. This start-up of AndAir, that takes place within the bounds of global economic crisis, symbolizes further development of European aero market in spite of unfavorable circumstances. This should positively sway the Association in general, and the welfare of each member in particular".
It should be recalled that AndAir plans to implement commercial  passenger low-cost flights by French turbo-prop short-haul ATR 42-320 by the end of 2014. It is supposed that at first the company will implement several flights a day from Andorran airport at La Seu d'Urgell (Spain, 10km from the border with Andorra) to Barcelona, Madrid, Toulouse, Balearic Islands and Lisbon.
Andorran Minister for Tourism Francesc Camp previously said in his interview to all-andorra.com : "it is impossible to establish the direct flights from Russia due to the landing line constraint on the mountainous terrain. Nevertheless, together with Russian touristic agencies we have started to develop new convenient joint flights to Andorra via Barcelona. The flight from Barcelona  or Toulouse won't take more than 30 minutes; the cost of flight Andorra Barcelona, Andorra Toulouse will make up about 75 euro. Currently one may get to Andorra from these cities only after three-hour drive".