2021 BMW M5 CS. Green version
This is the first ever CS version of the M5, the car entered production in March 2021. Its notable differences include:
Engine power increased by further 7 kW (10 PS; 9 bhp) to 467 kW (635 PS; 626 bhp)
It weighs 1,866 kg (4,114 lb) making it 116 kg (256 lb) lighter than the regular M5.
It has four bucket-style seats, with the famous Nürburgring circuit logo printed on the headrests.
It has a special trim with extensive Gold Bronze detailing.
Two heat extractor vents in the bonnet.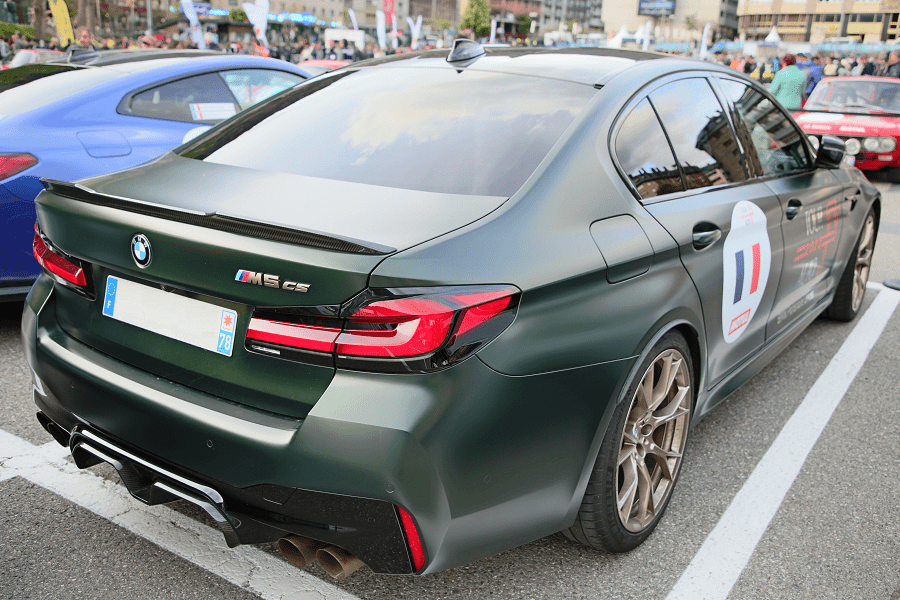 Carbon fibre is used extensively on the M5 CS because it is both lightweight and strong. The brakes are 23 kg lighter than those on the BMW M5 Competition.
In total, the carbon fibre parts contribute to a near 70 kg weight reduction over the BMW M5 Competition. Carbon Fibre Reinforced Plastic (CFRP) is used for the bonnet, the front splitter, exterior mirror caps, rear spoiler on the bootlid and the rear diffuser.
Despite these improvements, the top speed remains the same at 305 km/h (190 mph), and it only comes in three colors (two of which are BMW Individual colors) Brands Hatch Grey Metallic, Frozen Brands Hatch Grey Metallic, and Frozen Deep Green Metallic.