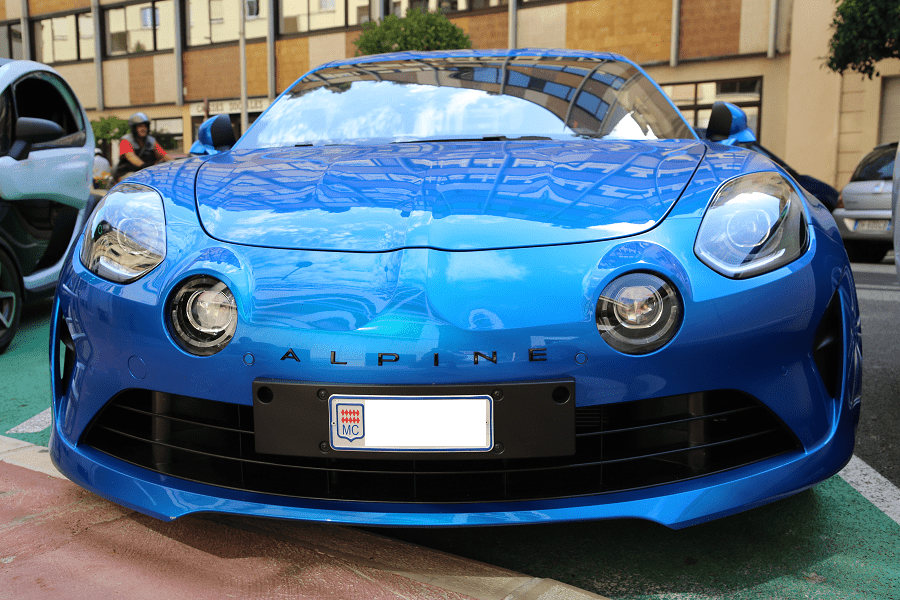 2019 Alpine A110. Blue version in Monaco
The Alpine A110 is a rear mid-engine, rear-wheel-drive sports car introduced by French car manufacturer Alpine at the 87th Geneva International Motor Show in March 2017.
Deliveries began in late 2017 for Continental European markets and in 2018 for the UK, Japan and Australia. Both its name and design refer back to the original Alpine A110 that was produced from 1961 to 1977.
Based on an all-aluminium construction, the A110 is powered by a 1.8-litre turbocharged gasoline direct injection 4 valves per cylinder inline-four engine mated to a 7-speed dual-clutch transmission manufactured by Getrag.
Developed by Renault–Nissan and reworked by Alpine engineers, the engine has an output of 252 PS (185 kW; 249 hp) at 6,000 rpm and 320 N⋅m (236 lb⋅ft) of torque at 2,000–5,000 rpm. According to Alpine, the A110 can accelerate from 0 to 100 km/h (0 to 62 mph) in 4.5 seconds, and has an electronically limited top speed of 250 km/h (155 mph).
The Alpine A110 is a sports car produced by French automobile manufacturer Alpine from 1963 to 1977. The car was styled as a "berlinette", which in the post-WWII era refers to a small enclosed two-door berline, better-known as a coupé. The Alpine A110 succeeded the earlier A108.
The car was powered by a succession of Renault engines. A car also named Alpine A110 was introduced in 2017.