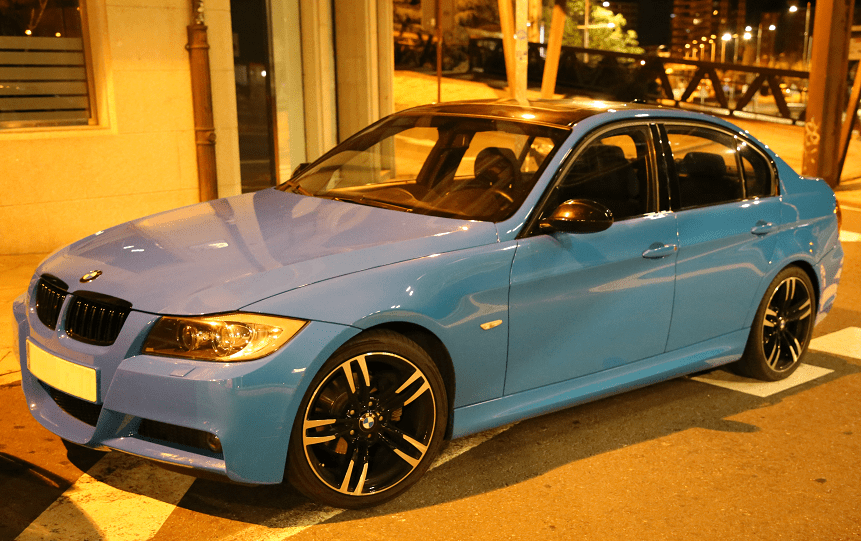 2006 BMW 320i (E90) Sedan. Blue version in Ourense (Spain)
The fifth generation of the BMW 3 Series range of compact executive cars is designated under the model codes E90 (saloon), E91 (estate, marketed as 'Touring'), E92 (coupé) and E93 (convertible). The model was introduced in December 2004, and produced by BMW until October 2013 and is often collectively referred to as the E90 or E9x.
The E9x saw the introduction of run-flat tyres to the 3 Series range. Models with run-flat tires are not equipped with a spare tyre. The E92 335i was the first 3 Series model produced with a turbocharged petrol engine.
It was also the first 3 Series to include the iDrive operating system, which consists of navigation, infotainment and essential vehicle functions.
The E90/E92/E93 M3 is the only generation of M3 to be powered by a V8 engine. Introduced in 2007, it uses the BMW S65 naturally aspirated V8 engine and was produced in saloon, coupé and convertible body styles.
Following the introduction of the F30/F31 3 Series in February 2012, the E90/E91 saloons and estates were phased out. However, the E92/E93 coupés and convertibles remained in production through the 2013 model year, after which they were replaced by the F32/F33 4 Series models.