1960 Ferrari 250 GT SWB. Yellow version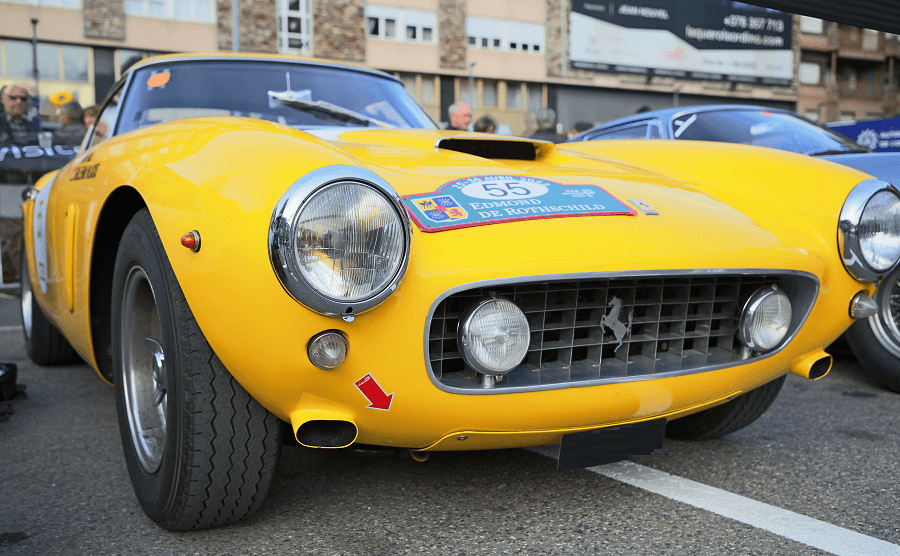 The Ferrari 250 is a series of sports cars and grand tourers built by Ferrari from 1952 to 1964. The company's most successful early line, the 250 series includes many variants designed for road use or sports car racing. 250 series cars are characterized by their use of a 3.0 L (2,953 cc) Colombo V12 engine designed by Gioacchino Colombo. They were replaced by the 275 and 330 series cars.
Most 250 road cars share the same two wheelbases, 2,400 mm (94.5 in) for short wheelbase (SWB) and 2,600 mm (102.4 in) for long wheelbase (LWB). Most convertibles used the SWB type.
Nearly all 250s share the same Colombo Tipo 125 V12 engine. At 2,953 cc (180 cu in), it was notable for its light weight and impressive output of up to 300 PS (221 kW; 296 hp) in the Testa Rossa and GTO. The V12 weighed hundreds of pounds less than its chief competitors — for example, it was nearly half the weight of the Jaguar XK straight-6. Ferrari uses the displacement of a single cylinder as the model designation.
The V12 propelled the Ferrari 250 racing cars to numerous victories.
The 1960 250 GT Berlinetta SWB used a short (2,400 mm (94.5 in)) wheelbase for better handling. Of the 176 examples built, both steel and aluminium bodies were used in various road ("lusso") and racing trims. Engine output ranged from 240 PS (177 kW; 237 hp) to 280 PS (206 kW; 276 hp). The "lusso" road car version was originally fitted with 185VR15 Pirelli Cinturato (CA67).