1959 Chevrolet Impala Shooting Brake Wagon "Las Vegas". Black & yellow version
As part of a GM economy move the 1959 Chevrolet Impala was redesigned to share bodyshells with lower-end Buicks Oldsmobiles, and Pontiacs. Using a new X-frame chassis the roof line was 3 inches lower, bodies were 2 inches wider, the wheelbase was 1-1/2 inches longer, and curb weight increased.
Flattened tailfins protruded outward, rather than upward. The taillights were a large "teardrop" design at each side, and two slim-wide, nonfunctional front air intake scoops were added just above the grille,
The Impala became a separate series, adding a four-door hardtop and four-door sedan to the two-door Sport Coupe and convertible and a five-door station wagon. Sport Coupes featured a shortened roof line and wrap-over back window.
The standard engine was an I6, while the base V8 was the carryover 283 cu in (4.6 L), at 185 hp (138 kW). Optional were a 283 cu in with 290 hp (220 kW) and 348 cu in (5.7 L) V8 up to 335 hp (250 kW). Standard were front and rear armrests, an electric clock, dual sliding sun visors, and crank-operated front vent windows. A contoured hooded instrument panel held deep-set gauges.
A six-way power seat was a new option, as was "Speedminder", which allowed the driver to set a needle at a specific speed, which triggered a buzzer when exceeded.
The 1960 Impala models reinstated three round taillights on each side, and a white band running along the rear fenders.
Seven versions of the 283-cu in and 348-cu in V8s were offered: the carbureted Turbo-Fire 283 cu in could have either 170 or 230 hp (130 or 170 kW). The 348 cu in was available in 250 to 320 hp (190 to 240 kW) with a 350 hp (260 kW) Special Super Turbo-Thrust with triple two-barrel carburetors, 11.25:1 compression ratio, and dual exhausts. Fuel injection was no longer an option on full-size Chevrolets. New to the options list was cruise control. Production was 490,000 units.
The Chevrolet Impala is a full-size car built by Chevrolet for model years 1958 to 1985, 1994 to 1996, and 2000 to 2020. The Impala was Chevrolet's popular flagship passenger car and was among the better-selling American-made automobiles in the United States.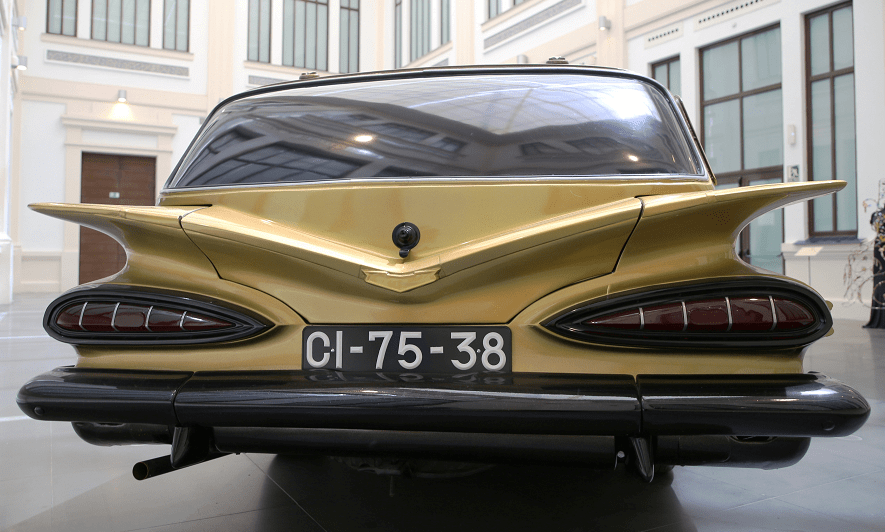 For its debut in 1958 the Impala was distinguished from other models by its symmetrical triple taillights. The Chevrolet Caprice was introduced as a top-line Impala Sport Sedan for model year 1965, later becoming a separate series positioned above the Impala in 1966, which, in turn, remained above the Chevrolet Bel Air and the Chevrolet Biscayne.
The Impala continued as Chevrolet's most popular full-sized model through the mid-1980s. Between 1994 and 1996 the Impala was revised as a 5.7-liter V8–powered version of the Chevrolet Caprice Classic sedan.
In 2000, the Impala was reintroduced again as a mainstream front-wheel drive car. As of February 2014, the 2014 Impala ranked No. 1 among Affordable Large Cars in U.S. News & World Report's rankings.
When the 10th generation of the Impala was introduced for the 2014 model year the 9th generation was rebadged as the Impala Limited and sold only to fleet customers through 2016. During that time both versions were sold in the United States and Canada. The 10th-generation Impala was also sold in the Middle East and South Korea.